Self-build and custom house building
Introduction
Self-build housing is when you are involved in the creation of a new home, rather than buying it ready from a housing developer or builder. The level of involvement can vary from doing the designing, planning and building work yourself to contracting out the work to third parties.
There are also examples of community self-build homes. This is where people get together and work either on each others homes until all are completed, or subdivide land into plots and then organise building each of their homes individually.
Such is the scope of involvement in the design and construction process, the term 'custom build' housing is often used.
Our policy around self-build housing
We positively encourage self and custom build within the district as it helps to increase the provision of housing, and often delivers better design and build standards. We will enable self-build by:
seeking to bring forward land for custom build homes through the review of our Local Plan
investigate opportunities for custom build homes on council owned land, as and when it becomes available for disposal or redevelopment
encourage developers to provide serviced custom build plots on residential development sites of over 10 dwellings
For more detail on our policy around self-build housing, refer to our Planning policy PSP42 within our Policies, Sites and Places plan(PSP)
We are a member of the National Custom and Self Build Association (NaCSBA).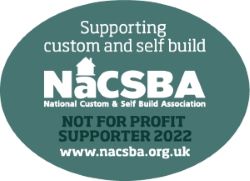 Self-build partnership
The partnership aims to improve the availability and delivery of self and custom-build plots within the area.
Joining the partnership
You can apply to join the partnership either as:
a self and customer-build enabler
a small and medium enterprise self and custom-build business and house builder
who specialises in the construction or delivery of self and customer-build homes.
The self-build partnership criteria and application form sets out the requirements and fees for joining the partnership. Completed forms must be returned by email in PDF format to selfbuild@southglos.gov.uk.
Applications to join the partnership must be received by 31 January 2024.
Self-build partnership joint working agreement
Self-build partnership code of conduct
We have published a document with answers to your questions about the self-build partnership.
You can feedback on the self-build partnership proposal until 3 November 2023.
Timescales for the partnership proposal are as follows:
Soft launch: 4 October 2023
Feedback window opens: 13 October 2023
Feedback window closes: 3 November 2023
Roundtable discussions: 23 November 2023 at 2pm or 29 November 2023 at 11am (choose one session)
Application window goes live: 2 January 2024
Application window closes: 31 January 2024
Sign up partners: 16 February 2024
Partnership Launch: 1 March 2024
Supplementary Planning Document (SPD)
A Supplementary Planning Document (SPD) is available that provides guidance to anyone seeking to build a self-build or custom-build home.
The SPD also provides advice and guidance to the local planning authority, developers, landowners and the community on the delivery of self-build and custom-build homes.
This document is especially relevant to developers of sites with more than 100 dwellings where it is required to supply at least 5% of the total dwellings on residential and mixed-use sites as for sale to self and custom builders.
The self and custom build register
As of 1 April 2016, local planning authorities are required to keep a register of individuals and associations who are looking for a serviced plot of land in their area for self-build and custom housebuilding.
The register provides valuable information on the demand for self-build and custom housebuilding in the local area. This information can help us to make decisions on planning, land disposal and regeneration going forward.
Registration does not guarantee that suitable plots will be made available.
Joining the register
You can join the register either as:
an individual which can be a representative of a couple or household or
an association, which must appoint a member or officer to act as the lead contact
To join the register you must be:
aged 18 or older
a British citizen, a national of a EEA (European Economic Area) State other than the United Kingdom, or a national of Switzerland; and
seeking (either alone or with others) to acquire a serviced plot of land in the relevant authority's area to build a house to occupy as that individual's sole or main residence.
Apply to join the South Gloucestershire self-build register
Further information on the self-build register can be found on GOV.UK.
Changes to the register
We introduced a local connection criteria on 1 February 2018 as a result of changes to government guidance which applies to all applications for the self-build register.
We are required to have two parts to the register:
Part 1 – applicants who meet the eligibility criteria set by central government AND our local connection criteria
Part 2 – applicants who only meet the eligibility set by central government
To meet our local connection criteria, applicants will be required to have a local connection to South Gloucestershire Council through residency, close family or work.
Entries on part 1 of the register are counted towards the number of serviced plots that we must grant development permission for.
Entries on part 2 do not count towards demand (for the purpose of the 2015 Act as amended), but we must consider these when we carry out planning, housing, land disposal and regeneration.
Self-build statistics
The table below shows number of registrations on our self-build register, those qualifying for part 1 (the local connection), our plot duty figure (number of plots we need to commission that are suitable for self build and custom housebuilding within South Gloucestershire) and how many plots were granted planning permission.
The baseline period covers between when the register was first established (1 April 2016) and the day prior to when Section 10 of the Housing and Planning Act 2016 came into force (30 October 2016). Figures are then reported annually (31 Oct- 30 Oct).
| | | | | | |
| --- | --- | --- | --- | --- | --- |
| Period | Total registrations | Registrations on part 1 of the register (local connection) | Plots granted planning permission | Plot duty* | Plots delivered against duty* |
| 2016 | 433 | 433 | 22 | 0 | |
| 2016-17 | 197 | 197 | 50 | 0 | |
| 2017-18 | 68 | 32 | 163 | 0 | |
| 2018-19 | 129 | 50 | 43 | 433 | |
| 2019-20 | 109 | 48 | 29 | 197 | 155 |
| 2020-21 | 151 | 58 | 46 | 32 | 307 |
| 2021-22 | 111 | 32 | 43 | 50 | 353 |
| 2022-23 | | | | 48 | 370 |
| Q1** | 15 | 5 | 1 | | |
| Q2** | 14 | 8 | 32 | | |
| Q3 | 26 | 6 | 0 | | |
| Q4 | | | | | |
| Totals | 1253 | 869 | 429 | | |
*plot duty applies to registrations on part 1 of the register on a rolling three year deadline to meet demand.
**Quarterly periods are Q1 (31 Oct – 31 Jan), Q2 (1 Feb – 30 April), Q3 (1 May – 31 July), Q4 (1 Aug – 30 Oct)
Getting planning permission
You will need to get planning permission before you build something. You can apply for an informal pre-application assessment before you submit your planning application. There is a fee involved for this service.
Our website has details of what information you will need to submit with your planning application and how to submit a planning application. You will most likely also need to obtain building regulations approval for your project.
Community infrastructure levy (CIL)
Community Infrastructure Levy (CIL) is a tool for local councils to help raise funds from developers to deliver infrastructure such as new schools, open space or public transport.
Self-builders can claim for exemption or relief from the CIL where the relevant criteria are met, and the correct process is followed.
Claims for a self-build exemption (relating to a whole house) should be submitted using Form 7: Self Build Exemption Claim Form Part 1 before any work commences on site.
A decision on relief must be granted and a commencement notice (Form 6) submitted to the CIL team at least one day before commencement, otherwise relief will be revoked and the liable person will be required to pay the full amount of CIL.
Form 7: Self Build Exemption Claim Form Part 2 must be submitted within 6 months of completing the self-build residential building, together with the evidence as detailed in the form. Failure to submit this form will result in relief being revoked and the liable person will be required to pay the full amount of CIL.
Where an exemption or relief has been obtained for self-build housing, it is important to note that a commencement notice must be submitted prior to the development commencing. If a commencement notice is not submitted in time, the charging authority must impose a surcharge equal to 20% of the notional chargeable amount, capped at £2,500.
More information is available on our Community Infrastructure Levy page.
Consented sites and available plots
Further information will be added when available.