Marriages or civil partnerships
Civil marriages
A civil marriage is a wedding that takes place without any religious affiliation. A government or civil official performs the ceremony and it has a legal status.
Before you marry you must first give notice of your intention to do so.
The civil marriage is completed once you and your partner have declared yourselves free to marry and have agreed to marry each other by exchanging some formal wording (vows) in the presence of the registration staff and at least two witnesses.
At the end of the ceremony, the registrar will make the entry in the marriage register for you and your witnesses to sign. You will then be presented with a certified copy of the entry in the register for your marriage.
Civil marriages can be held for opposite and same sex couples. There are two options for civil marriages, registration and ceremony.
Registration
A registration includes you and your partner, two witnesses, up to two guests and the registration officers conducting the legalities.
The registration will take place in a designated room at a registration or register office. Although there is no music or readings, it is still an occasion where you can make your legal commitment to each other.
Our register office is at:
Kingswood Civic Centre
High Street
Kingswood
Bristol
BS15 9TR.
Ceremony
A ceremony allows you to make choices about the venue and words you wish to say to each other. It can also include readings and music. You may invite as many guests as the room is licensed to hold, but this number must include you, your partner and the two registration officers.
Civil partnerships
Couples of the same sex can form a legal partnership, known as a civil partnership. This provides same sex couples with similar rights and responsibilities to those given to married couples, but under different legislation.
New changes to civil partnerships
From 31 December 2019 civil partnerships will be extended to opposite sex couples.  Appointments for notice of civil partnership can be made from 2 December 2019, allowing couples to form their civil partnership officially from 31 December 2019.
You will need to give notice before holding a civil partnership.
The civil partnership is formed when both parties have signed the 'Schedule' in the presence of two witnesses and the registrar.
There is no legal requirement for you to have a ceremony when you form your civil partnership, but if you would like one, we have a range of options available which are outlined in our ceremonies guide.
Venues
The following are approved premises within South Gloucestershire where civil marriage or partnership ceremonies can be held.
The South Gloucestershire Register Office
Kingswood Civic Centre
High Street
Kingswood
Bristol
BS15 9TR
The ceremony room can accommodate the couple and up to four guests, two of whom would be your witnesses. The registrars cannot provide witnesses for your marriage or civil partnership, ensure you arrange this yourselves before arriving. 
Poole Court mansion
Poole Court in Yate is a delightful Victorian mansion set in attractive surroundings. The Ranger Room on the ground floor is used for ceremonies and can hold up to 45 guests with approximately 28 seated. After your ceremony you will be able to have photographs outside and on the lawn using the house as the backdrop.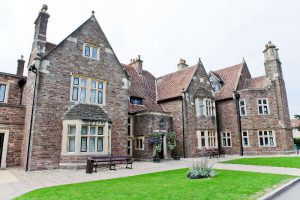 Poole Court, Yate – photograph by RichMcD photography
Poole Court ceremonies are available on Fridays and Saturdays throughout the year and can be booked up to 12 months in advance.  
Our Poole Court marriage and civil partnership ceremonies includes choices of promises and additional vows on exchange of your rings. It is also possible to include one or two readings if you want to involve your guests in your ceremony. 
To book or for more details contact us on 01454 863140. Note that ceremonies cannot be booked by staff at Poole Court, which is owned by Yate Town Council.  All ceremony bookings are made by South Gloucestershire Register Office on the number above.
There is ample free parking on site. Yate railway station and bus station are only a short walk away. 
Other approved premises
Other approved premises in South Gloucestershire for civil marriages and civil partnerships: 
List of approved premises
Aztec Hotel, Aztec West, Almondsbury, BS32 4TS
Berwick Lodge, Berwick Drive, Henbury, BS10 7TD
Bristol Golf Club, Almondsbury, BS10 7TP
Chipping Sodbury Town Hall, Chipping Sodbury, BS37 6AD
The Compass Inn, Tormarton, GL9 1JB
Eastwood Park, Falfield, GL12 8DA
The Gables Hotel, Falfield, GL12 8DL
Hamswell House, Hamswell, Bath BA1 9DG
Henfield Barn, The Hollows, Henfield BS36 2UU
Hilton Bristol, Woodlands Lane, Bradley Stoke BS32 4JF
Holiday Inn, Filton, BS16 1QX
The Kendleshire Golf Club, Henfield Road, Coalpit Heath, BS36 2TG
Memorial Woodlands, Earthcott Green, Alveston, BS35 3TA
Mercure Bristol North, The Grange, Winterbourne BS36 1RP
Old Down Manor, Foxholes Lane, Tockington BS32 4PG
Poole Court, Poole Court Drive, Yate BS37 5PP
The Ship Inn, Thornbury Avenue, Alveston, Bristol BS35 3LL
The White Horse Barn, Bristol Road, Hambrook BS16 1RY
Thornbury Castle, Thornbury, BS35 1HH
Thornbury Golf Centre, Bristol Road, Thornbury BS35 3XL
Tortworth Court Four Pillars Hotel, Tortworth, GL12 8HH
Tracy Park, Wick, BS30 5RN
Our ceremonies brochure has more information on venues in South Gloucestershire. 
To arrange your ceremony you must first contact the venue to make the provisional arrangements and then contact us on 01454 863140 to ensure we are able to attend and conduct the ceremony.  In addition to our fees below there will be a charge for the venue hire which you are responsible for paying.
Fees
Registration of civil marriage or civil partnership at register office
Registration and conduct of marriage or civil partnership ceremony at Poole Court
Registration and conduct of marriage ceremony at approved premises
Monday to Thursday £515
Friday and Saturday £557
Sunday and bank holidays £656
Registration and conduct of civil partnership ceremony at approved premises
Monday to Thursday £479
Friday and Saturday £496
Sunday and bank holidays £567
Except for registration at the register office, there is a £50 non-refundable and non-transferable booking fee to be paid at the time of booking. The remaining balance is due eight weeks before the ceremony.
All fees include one certificate.
Photography and videos
Photography is not permitted during the ceremony, however time will be allowed at the end of the ceremony for photos.
Video cameras may be used provided that the Superintendent Registrar has agreed.