Community safety
We aim to make South Gloucestershire a safe place to live and work.
CCTV
We work with local police and communities to prevent crime and anti-social behaviour. We also use CCTV as a tool to tackle crime to increase community safety.
Closed circuit television (CCTV) is a useful tool for:
tackling crime
helping vulnerable residents
keeping communities safe
CCTV camera locations
We have 85 CCTV cameras located throughout our town centres and neighbourhoods. These are shown in the map.
About our CCTV cameras
Our cameras are connected to a fibre optic network that is monitored 24 hours a day, 7 days a week, 365 days a year.
The CCTV cameras have the latest technology such as pan, tilt, and zoom which allows the field of view (what can be seen by the camera) to be moved as and when needed giving us excellent quality images.
Reviewing CCTV footage
In partnership with Avon and Somerset Police we have a state-of-the-art review suite to monitor activity throughout South Gloucestershire. Evidential footage from our CCTV cameras can be viewed and investigated by authorised officers.
Privacy and code of practice
Our CCTV systems comply with the requirements and principles of the Data Protection Act 2018 and Regulation of Investigatory Powers Act (RIPA) 2000
Our code of practice sets out how we and our partners make sure the operation of our CCTV systems complies with the law.
Certification of community safety CCTV
Our Community Safety team have been awarded the full certification by the National Security Inspectorate (NSI).
This certification is proof that our community safety CCTV complies with the surveillance camera code of practice and that it is used clearly, effectively and fairly.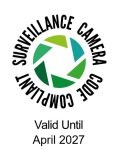 Metrobus CCTV
Our community safety CCTV is being used to support the Metrobus rapid transit scheme.
Cameras are installed at Metrobus stops in Bristol, North Somerset and South Gloucestershire for the safety and security of passengers using this bus service.
Metrobus camera locations
There are 25 camera locations along the Metrobus route in South Gloucestershire. You can find them on the CCTV camera location map as red icons when you view the larger map.
Why CCTV is on Metrobus
The use of bus stop CCTV was included as part of the Metrobus project. The positive benefits were highlighted in the planning stages and include improving safety for all users especially those from vulnerable groups.
Privacy
The privacy of residents living nearby has been respected. The setup of the cameras makes sure that the surrounding residential addresses are not captured by the cameras.
If you cannot expand the sections above, try refreshing your browser.
Contact us
If you need CCTV evidence you must call the police on 999 in an emergency or call 101 for non-emergency incidents. The police will make any CCTV requests needed.
If you have any further questions about CCTV in your local area you can:
Crime prevention and neighbourhood safety
Our Safer and Stronger Communities Strategic Partnership means that we work with the local police, other partners and our communities to make communities stronger by tackling crime and anti-social behaviour.
You can read our Safer and Stronger Communities Strategic Partnership Plan. The priorities of this are to prevent:
sexual violence and violence against women and girls
domestic violence and abuse
hate crime
Join your local forum
You can get involved in finding solutions to issues affecting your neighbourhood through your local Community Engagement Forums (CEF).
Report unsafe streets
StreetSafe is a pilot service launched by the police where you can anonymously report public places where you have felt or feel unsafe.
StreetSafe is not for reporting crime or incidents.
Find out more on POLICE.UK's StreetSafe page.
Neighbourhood policing
We have a local Policing Inspector who focuses on national, force and local issues.
This role involves managing a neighbourhood policing team of Sergeants, Constables and Police Community Support Officers (PCSO) who are knowledgeable about local problems and can help solve them.
You can find more information on Avon and Somerset Police's Neighbourhood policing webpage.
Serious violence and child exploitation
We work with partners including the police, social workers, schools and youth teams to prevent, reduce and resolve issues of violence and child exploitation. This includes things like knife crime, drugs and county lines and children being coerced into carrying out criminal activity.
South Gloucestershire has its own violence reduction partnership (VRP) which forms part of a regional operation covering Bath and North East Somerset, Bristol City, Somerset and North Somerset as well as South Gloucestershire.
You can find more information on the VRP on the website for the Avon and Somerset Police and Crime Commissioner.