Life in South Gloucestershire during the First World War
We collated the following information to commemorate the centenary of the First World War 1914 to 1918. This was funded by the National Lottery Heritage Fund.
Below you can find out what life was like for the people of South Gloucestershire in the First World War.
If you cannot expand the sections below, try refreshing your browser.
Stories of local people
Land girl
Mabel Emily Flux lived in Walton Farm in Hambrook, She became a land girl and lost 2 brothers and 2 cousins during the war.
Mabel emigrated with her Australian sweetheart to a new life and became a pillar of local government.
Awarded the OBE in 1960, she was described as 'one who knows and loves the land, the people who live on it and the things that grow in it'.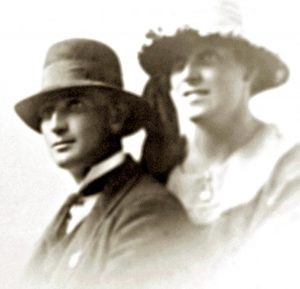 Royal Medical Corps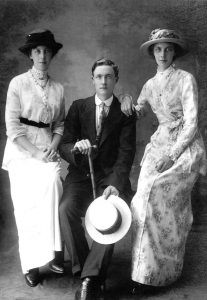 Cecil Bernard Symes was an Assistant Master at an elementary school before the war.
He had a distinguished service record with the Royal Medical Corps. Cecil became an expert on malaria carrying mosquitoes before being discharged with wounds in 1919.
Cecil went on to study entomology at the Royal College of Science. He then worked for the Colonial Office worldwide as a specialist creating the entomological section of the medical research labs. A new species of mosquito is actually named Anopheles Symesi after him.
School master
Samuel Dennis was a much loved and respected schoolmaster.
From 1917, Samuel ran the National and Council schools for the duration of the war. Mabel, his wife, was also a teacher.
The school was very busy keeping up with government demands. The War Office wished school children to pick wild blackberries. They were used for making jam for the servicemen. In October 1917 over 41 cwt. was sent.
The Ministry of Munitions also wanted horse chestnuts and the children collected 2 tons. Three sacks of waste paper weighing 2 cwt were also sent to E A Chamberlain Ltd in Nailsworth, .
Holidays were extended to reduce fuel bills at the school. Children were allowed time off for milking or harvest. School was frequently closed due to illnesses. Refugee children from Belgium joined the school.
Samuel Dennis taught at the National School, now St Mary's Thornbury from 1905 until 1939.
After retirement, Samuel continued as school manager until his death in 1965 aged 91.
Shop keepers
Frank Symes was a saddler and harness maker who ran a thriving shop.
At 52, Frank was too old to enlist so he joined the local Volunteer Battalion.
Records show that his business serviced 100 farmers and 300 horses.
Part of the war effort was to encourage civilians to collect wild produce to help feed the nation.
An advertisement in 1916 in the local paper says that 'top prices would be paid for apples, blackberries, mushrooms and walnuts' to go on sale in his shop.
Frank's niece Rose Symes ran the garden and flower shop. Her father, Charles Symes, brother of Frank, was a nursery and seedsman.
Rose apparently lost her fiancé in the war and like so many of her generation, never married. Rose inherited the family business and ran it for much of her life.
She died in 1970 aged 82.
Soldiers
Six men went to war and all 6 came back alive.
Charles Grivell, the youngest to go to war at 14 years old in 1914 was the son of a farm labourer at Ball's Cottage.
William (Bill) Leach went to war at 23 and married to Mary Ethel. He lived in Winchcombe Cottage.
Ernest Warren went to war at 29. He was as an ambulance driver for Little Sodbury Manor Hospital . Ernest lived at The Lodge with his wife and 2 children.
William Gowen went to war at 31 and was a railway labourer. He lived with his with a wife and young twins.
John Weare went to war at 31. He was a groom at The Great House and went with his employer to war.
Leonard Taylor, went to war at 38. He was a farmer and secretary to the Beaufort Hunt. He lived at The Great House with his wife, young son and 5 servants.
Image: Margaret Faithfull
Bill is the first soldier in the back row.
How the First World War affected South Gloucestershire
Filton
The British and Colonial Aeroplane Company was founded in Filton by Sir George White in 1910.
By the outbreak of First World War, it had produced many trainer aircraft for its 2 flying schools.
These trained over 50% of the pilots available for service in August 1914. Another 25% were trained on Bristol machines. The company produced 1,296 Be2, 374 Bristol Scout and over 5,000 Bristol Fighters during 1914 to 1919.
The Royal Flying corps opened the Filton Aircraft Acceptance Park in 1915. It took aircraft from local manufacturers and brought them and their crews up to war service standards before they were sent into battle, at home or on the Western Front.
A variety of training aeroplanes at the British and colonial aeroplane flying school at Larkhill just before First World War.
People working at the Filton Machine Shop in 1917. There are over around 60 women and only 4 men.
Bristol F2b Fighters aeroplanes being assembled at Filton in 1918. This was said to be the best 2 seat aeroplane of First World War.
Four Filton built Be2d aeroplanes lined up for flight at the Royal Flying Corps Acceptance Park in late summer 1916.
A Be2c aeroplane crashed on landing at the RFC acceptance Park in late summer 1916.and is being recovered in this image.
Frenchay
The Cleve Hill voluntary aid detachment hospital was established in a large 17th century house owned by Sir Charles Cave, of Clifton, Bristol. Dr. Frank Crossman of Hambrook and Dr. Maurice Barber of Staple Hill were the medical officers.
Nursing and orderly staff came from local Red Cross and St John Ambulance units. Some 1,343 troops were nursed in the hospital with only 2 deaths being recorded. A large collection of photographs are in Frenchay Village Museum, many with details of names, dates and regiments.
These pictures were taken by Nancy and Molly Elliott of Frenchay and the information was provided by Frenchay museum.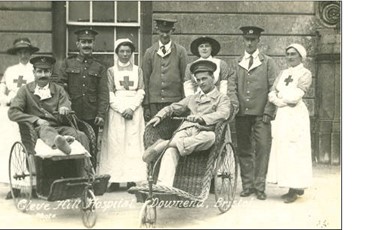 Staff and servicemen outside Cleve Hospital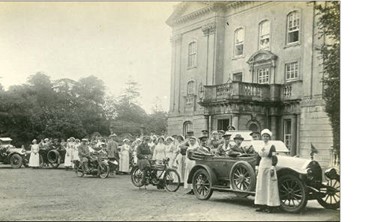 Staff and visitors outside Cleve Hospital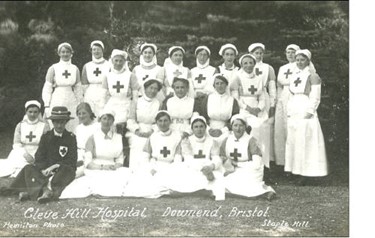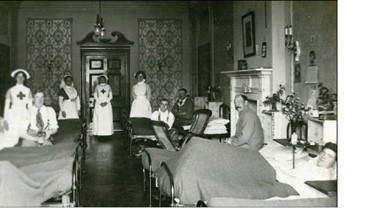 Hawkesbury
There were many auxiliary hospitals around the country during the First World War to help facilitate the care of the wounded, including ones at Horton, Badminton and Hawkesbury Upton.
The Hawkesbury Hospital Hall wasn't very large and had a tin roof. Two sisters collected autographs the soldiers they nursed and the books contain wonderful drawings, poems and messages such as:
After fighting in Belgium and fighting in France
I found a good home but 'twas only by chance
It was not at Calais or even gay Paris
But at the convalescent hospital at Hawkesbury
With my very best wishes to Nurse Hensley and the others too for their kindness during my stay and period of sickness.
Sergeant E. Rex
Inside Hawkesbury hospital hall
Hawkesbury Section of the Red cross detachment. Christmas 1914.
Memorial cross, Hawkesbury Upton
Iron Acton
Many local families lost loved ones during the First World War and in Iron Acton the Cater family were hit particularly hard. John and his wife Sabina lost 3 sons, Archie, Frank and Hubert. The boys had gone to Canada in 1907 but joined the Canadian army and returned to Europe to fight.
Local residents decided to recognise the services given by men from the parish by raising funds to buy a village hall. Two empty cottages in the High Street were converted into a village hall. When finished it was used by the Boys Club, Women's Institute, Guides, Scouts and other organisations.
Acton Court contributed to the war effort by maximising the output from the land to contribute to feeding the nation but by 1918, the land was in such poor condition that it could not be relet.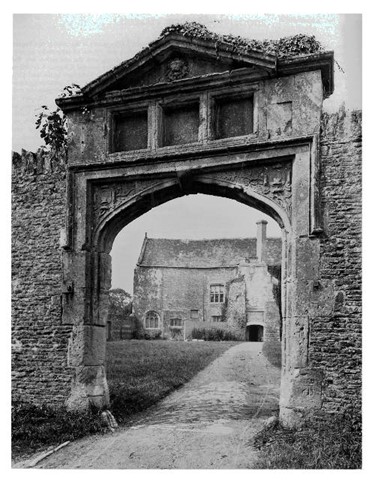 The view through the entrance to Acton court has hardly changed since the First World War.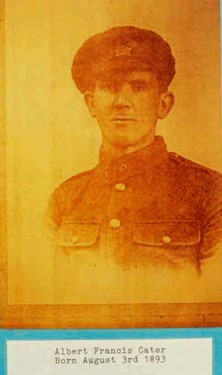 Albert Francis Cater born 3 August 1893.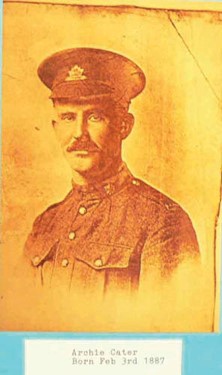 Kingswood
Kingswood, like many towns and villages, witnessed loss of life because of bombings and casualties on the Front. There were also opportunities for industries.
Kingswood was one of the main boot and shoe manufacturing centres with around 50 different companies. The G.B. Britton factory on Soundwell Road, lost many experienced production staff but, at the same time, government orders for boots rose.
The Douglas Motorcycle Company was asked to accelerate production as the motorcycle performed a key role in maintaining good communications. By the end of the war the factory had provided over 25,000 machines for the military.
The Duke of Wellington once said "The British army marches on its belly" however the 20th century army marched on their feet and in many cases boots that were manufactured in Kingswood.
Isaac Crane established a firework factory in Warmley, the 1890s. Firework production ceased at the outbreak of War and large supplies of the British Mills Bomb and hand grenades were leaving the site via Warmley Station for the war zones.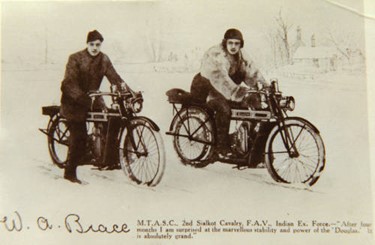 The Douglas factory was well placed in the post war years to become one of the premier motorcycle manufacturers of Great Britain and the largest single employer in East Bristol.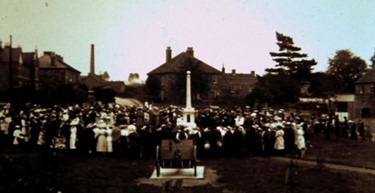 Thornbury
In this rural area boys, women and prisoners of war helped to keep many farms running. Commonly, instead of lessons, children tended school allotments and gathered wild fruits. Tons of blackberries went to make jam for the troops.
A Food Control Committee operated in Thornbury. Eventually some foods were rationed and pub opening hours were restricted. With coal in short supply, firewood had to be collected to keep the home fires burning.
Born in Thornbury, war poet William Noel Hodgson MC was killed at the Battle of the Somme. His poems are a lasting testament to the bravery of those who served.
Oldbury farrier MR William Phipps manufactured mule shoes for the War Office. The farmer's son, William Peters, tended mules on active service.
The Oldown Troop, Royal Gloucestershire Hussars, campaigned in the Middle east, where Algar Howard of Thornbury castle won the Military cross.
The Salmons, their servants and 4 nurses, ran a 20 bed military hospital at Tockington Manor. also 16 local women did the laundry for the hospital.
Gladys Oseland became a voluntary aid detachment.
Thornbury mayor John Bond announced the armistice at a very well attended service of thanksgiving where the bells were rung joyfully.
Yate and Sodbury
The First World War transformed Yate and Sodbury from a rural settlement into a militarised industrial area. This brought in a new population.
Chipping Sodbury was the home of a number of English army battalions, which moved men and materials; they defended the local railway. The new Royal Flying Corps set up an immense Aircraft Repair Depot at Yate.
Refugees were housed locally, while a purpose built prisoners of war camp housed several hundred German soldiers. Many local men fought in Europe and elsewhere.
Wickwar suffered especially high casualties, while Little Sodbury, lost no men in either World War.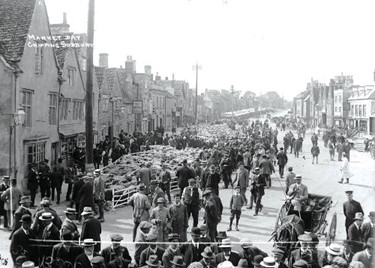 Market Day in Chipping Sodbury
Belgian refugees were spread throughout the area in 1914, including at Dodington House and Oxwick Farm, Yate.
Day to day life
Animals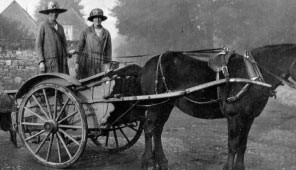 Horse, farm dog and Land Girls delivering milk around Downend. (Frenchay Village Museum)
Animals played an enormous part in the First World War both at home and abroad.
Local animals were requisitioned by the army and sent off into battle despite the protests of their owners. Horses and mules were trained for battle and transport and dogs were used as rat catchers and messengers.
Pigeons and canaries were used as couriers or poison gas detectors.
Working animals left behind such as plough horses, sheep dogs and cart horses, continued to do their usual, valuable service. Animals played a big part in keeping up moral. They brought much needed comfort and support to many people through the hardships of war.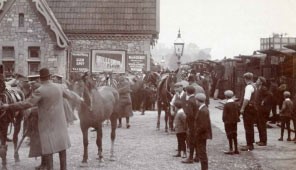 Many fine horses were requisitioned for the front. These were horses returning by train after exercising.
Images: Thornbury Museum)
Entertainment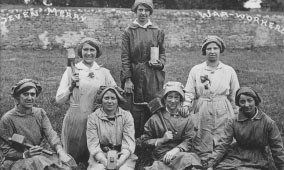 Image: Murray Dowding: ©Gazette Series
There was no shortage of enthusiasm and talent amongst the people in South Gloucestershire during the War. As there were many amateur theatre productions and concerts. Some were used as fund raising for the war effort and some had patriotic themes. This provided entertainment and light relief to the hard work and worries of war.

In the home, people sang popular songs around the piano or the carpet was rolled back for dancing to the new records on a gramophone. Some families played cards, board games or read books and magazines. Newspapers had regular cartoons satirising the war situation.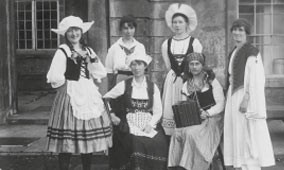 At Cleve Hill Hospital, staff kept the convalescing soldiers amused with fancy dress, whist drives and outings. A bohemian theme for the cooks.
Image: Frenchay Village Museum
Mining and quarries
South Gloucestershire was notable for coal that was good for steam engines. The outbreak of the war saw some of the miners enlisting. Many died and their names are now commemorated on village war memorials.
Rare celestine orstrontium sulphate was quarried. It was known locally known as 'spar' and was used in manufacturing fireworks, flares and sugar refining.
Stephen Francis was a strontia digger quarrying celestine. In 1911 he worked at the Raysfield Works in Yate with his father and two brothers. He served with the with the 10th Battalion of the Gloucestershire Regiment but lost his life in Flanders on 13 October 1915, when he was just 18 years old.
Frog Lane Colliery horse at Pit bottom
Frog Lane Colliery winding engine
Scouting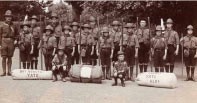 Image: Murray Dowding © Gazette series
Scouts made a huge contribution to the war effort:
84,000 former scouts joined up
8,000 died
16 were awarded Victoria Crosses
300 were awarded Military Crosses
300 were awarded Military Medal
The Downend War Memorial is one of only 2 First World War scout memorials on public land in the country.
It commemorates 6 local boys and their scoutmaster, Rev Philip Alexander, who was the curate at Christchurch in Downend.
He married the vicar's daughter, Fannie Dann, niece of WG Grace.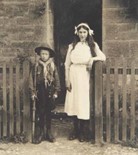 Image: Murray Dowding © Gazette series
Sport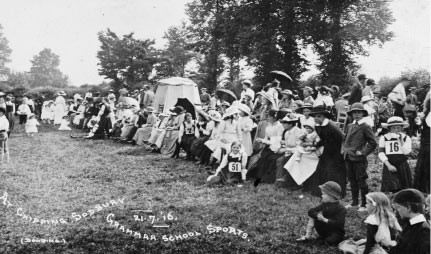 Chipping Sodbury Grammar School Sports Day, 1916
Image: Murray Dowding © Gazette series
Sport was played in South Gloucestershire during the war with as much enthusiasm as it is today.
It was encouraged from an early age. Many men started their sporting careers in the school or village teams. Cricket, football, tennis and boxing were highly popular.
WG Grace, the cricketing legend and captain of the England team for many years, was born into a cricketing family in Downend in 1848. Grace was still playing up to 1914.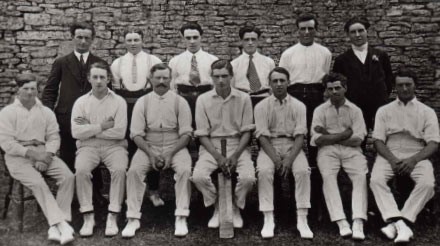 Cricket was played on many a village green by both villagers and the upper classes with equal enthusiasm.
Image: Murray Dowding © Gazette series
Women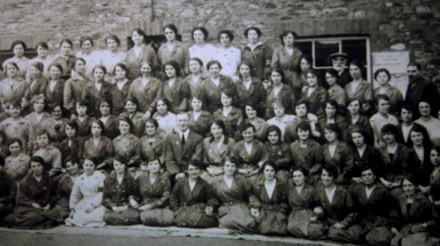 Workers at Cranes Factory, Warmley, where they made hand grenades.
Image: Kingswood Heritage Museum)
The women of Sout h Gloucestershire rose to the challenge of wartime conditions. With their men at war the women ran their homes alone. They cared for children, the elderly and sometimes held a job too.
With coal and food prices doubling over the period of the war, life was hard. The Women's Institute and the Mother's Union were formed to support women on the home front.
For some women, opportunities for work increased. There were better wages in munitions where women often braved dangerous working conditions.
Women worked in transport and offices. Some decided to volunteer to become nurses both at home and abroad. Most women tried to contribute to the war effort.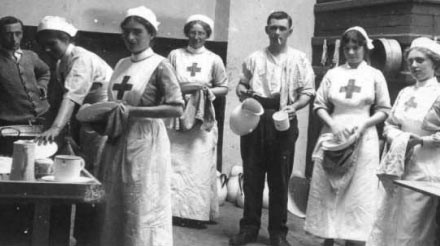 Voluntary Aid Detachment (VAD) members at Cleve Hill. Duties included scrubbing the kitchen floor, cleaning out the sink and cooking for nearly 100 people.
Image: Frenchay Village Museum
Learning resources
We have a range of First World War learning resources available. They focus on different perspectives of people in South Gloucestershire.
The resources include teacher notes, slides and photos.
Memorials
You can find memorials in South Gloucestershire on our war memorial website.