Battle of the Somme learning resources
We created the following learning resources to commemorate the centenary of the First World War 1914 to 1918. This was funded by the National Lottery Heritage Fund.
Learning resources
You can find learning resource packs linked the Battle of the Somme on our First World War learning resource page under large families and nurses.
Fictional stories
The 10 characters below are featured in the dramatic interpretation of the Battle of Somme by Adrian Harris. He told the story on the @thesomme_sg Twitter page.
The description of the characters explore their lives before and during the war.
The images used are of real people and are used to represent the fictional characters.
If you cannot expand the sections below, try refreshing your browser.
British Army miner
William (Bill) Thomas was born in 1880 and comes from a family of miners who worked underground at Frog Lane Pit. His grandfather, his father and 2 of his brothers are also employed in the pit. Bill is married to Sarah, they have 2 sons, 2 daughters and the family live in a cottage in Frampton End.
Bill did well at Yate school, leaving at 13 to start working above ground at the pit, going on to work underground a few years later, in the family tradition. He had seen the effect of the long hours and hard work on his family, and had the motivation to do something different with his life. His opportunity came at the outbreak of war in 1914. Seeing an arduous future in the mine ahead of him, Bill joined the army, as the hours and pay were considerably better.
By July 1915 Bill and the rest of the 8th Battalion The Gloucestershire Regiment had reached the Western Front. Hearing about the new tunnelling companies being formed, using men with knowledge and experience of mining, in October 1915 Bill transferred to the 179th Tunnelling Company of the Royal Engineers. At 36 he was not the oldest miner to join the Company, as the need for experience meant that the average age was older than most recruits.
In June 1916 Bill's Tunnelling Company had moved to La Boisselle in the Somme area. In particular, Bill was working on the Lochnagar mine. Their responsibility was digging tunnels under the German lines in order to set large quantities of explosives that will be exploded ahead of the main battle charge on 1 July 1 1916.
British Army private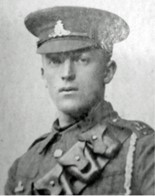 Jack Hubert was born in 1896 and joined up on the same day as 2 of his best friends from school and 3 of his work mates in Bristol in early September 1914. There had been an enormous queue to sign up but they had all sailed through the medical and had soon been on their way, proudly marching off to war.
Born in Yate, where his mother Mary runs the Post Office, Jack had been training to be an engineer. He had won a place at grammar school and begun an apprenticeship at a Bristol firm. They have promised to take him back at the end of the war. Jack's father had been proud of him but since his death before the war, Jack feels that by enlisting he can live up to being the new head of the family by defending his country in France.
During his training it was clear that Jack had a flare for signals, he loved the new technology and working out ways of getting the equipment to work in challenging situations. As part of the 5th Division, Jack has proved himself to be a good honest soldier and a credit to the Gloucestershire Regiment.
Before the Franco-British offensive on the Somme began the 5th Division was enjoying a period of rest and re fit at GHQ Reserve. However, his Sergeant owed a favour to a fellow NCO in 7th Division and "loaned" Jack for his signalling skills as a last minute replacement on the front line near Albert on 30 June.
Cavalry officer
Fredrick Mill (Freddie) was born in 1890 and is the only son of Geoffrey and Winifred Mills who live in a beautiful mansion house near Thornbury. With a keen interest in the works of Kipling, geography and the Empire it was only natural that Freddie was destined to travel to distant lands.
Educated at Clifton College and then Cambridge, Freddie became firm chums with Francis Bingham. The Binghams had long been family friends often meeting at gatherings at the Cave's home at Cleve Hill House near Frenchay. An energetic young man, his love of horses and polo put him in high regard among the social circle he had been born into.
Having gained a degree in English and Classics from Cambridge, Freddie went on to Sandhurst to fulfil his dream of becoming a cavalry officer in the British Army. He passed out with distinction before setting off for India as a lieutenant in the Gloucestershire Regiment.
Freddie had married Grace after a whirlwind romance and they had one daughter, Lottie. Both decided to stay in England during Freddie's tour in India and regularly write to each other enclosing photographs and keepsakes.
As an officer in the 20th Deccan Horse, Freddie became well respected by his Indian troops and by 1914 they had been ordered to France as part of the 9th (Secunderabad) Cavalry Brigade. Nothing could prepare the Indian Army for modern warfare on the Western Front, and in 1916 they were soon to become part of the first and last cavalry charge of the Battle of the Somme.
Farmer
Robert (Bob) Radford was born in 1868 and lives at Kingston Farm in Westerleigh near Yate. He is married to Lillie and they have 5 grown up children. Ellen is the eldest who is a nurse stationed at Abberville Military Hospital in France. Maurice is serving in the Gloucestershire Regiment on the Western Front. George is a stretcher-bearer with the RAMC on the Somme. Both Hannah and Clara, the youngest twins at 17 are working on the farm as land girls.
Bob is very hard working, and he needs to be since 2 of his 4 horses were requisitioned by the Army. He still employs his farm labourer, Joe, as the government has said that farm workers are needed at home. Joe is only 27 and is proving to be his weight in gold especially at ploughing time. The country simply doesn't grow enough food to feed itself and the newspapers are full of stories about German U boats sinking ships bringing food to Britain. Kingston Farm mainly grows wheat – perfect for the bread that Britain needs to grow to feed itself.
Bob and the girls are surprised that the government has introduced Daylight Saving Time so that farmers have more daylight to grow their crops. They find this odd because they don't do their farming by the clock but by available daylight and regardless of the weather.
Head teacher
John Richards was born in 1874 and is the Headteacher at Yate National School. As well as being responsible for educating the poor community spread wide across the semi rural area, John also visits families whose parents have poor literacy skills helping them with any correspondence with sons fighting in the Great War.
Life in class is tough, with one younger teacher already enlisted in the army and the school in constant threat of closure in the interest of the national economy, John relies on support both at home and teaching from his wife Edith.
Their daughter Florence is working as a VAD nurse at Cleeve Hospital in Downend and often dreams of running off to France to serve as a nurse on one of the front line hospitals.
Aside from schoolwork both John and Edith are active in the community organising jumble sales and collections on behalf of the Red Cross. Edith has also become a member of the Gloucestershire War Relief Committee helping distribute supplies for refugees recently settled in the area.
Munitions worker
Elizabeth Tucker was born in 1897 and works at the Crane's firework factory in Warmley, which was converted to munitions work in 1914 making mills bombs (hand grenades). She lives in Mangotsfield with her widowed mother and younger sister, her father had died in an accident at the Crown colliery before the war.
Elizabeth is feisty and strong willed with a mind of her own. She is a member of the Warmley Grenadiers' tug-of-war team set up by the work's sport club. Their highlight of the year is when they take on the team from the Douglas factory in Kingswood.
At work some of the girls start putting letters to the Tommies on the frontline in with the grenades they box and send to the Western Front. Elizabeth is eventually cajoled into writing a letter that finds its way to the hands of Private Jack Hubert, stationed on the Somme.
Until she started work Elizabeth was never involved in politics, she was aware of the Suffragettes and the Pankhursts, but was never a member of the movement. As the war goes on Elizabeth becomes suspicious of the politician's war and, convinced that the Government is lying about the casualties of the Battle of the Somme, she becomes involved in politics and the movement for women's right to vote.
Nurse
Hilda Thorne was born in 1894 and is a Red Cross nurse from the Voluntary Aid Detachment working at Cleeve Hill hospital. Born and raised in Frenchay, she was a pupil teacher at Frenchay National School, teaching the younger pupils for part of the day and receiving training from the headmaster after school.
When the Cave family made their large house available for a convalescent hospital she did some basic nursing training and then went to work as a VAD. At first she was employed winding bandages and cutting cloth for slings. Recently she has started working on the wards. She helps change dressings, feeding the patients and performing other tasks.
She has rarely travelled more than 5 miles from home and finds the soldiers' stories of their experiences very exciting. Hilda's mother and aunt run the local laundry from their home. Hilda's father is the local stonemason. He carves the headstones for the local churchyard. He is very busy as his apprentice has recently been called up.
Hilda met RFC pilot, Francis Bingham, while he visited a fellow officer convalescing at the hospital. Hilda is totally enamoured by this dashing hero who has told her of his forays over enemy lines in France.
Postmistress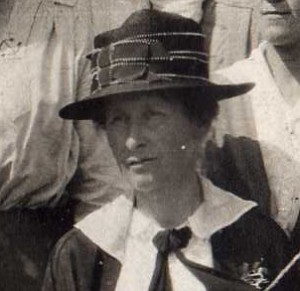 Mary Hubert was born in 1876 and is a lively and energetic woman with a good social conscience. Her husband Gerald died of cancer just before the war, she lives in Station Road Yate at the Post Office. The shop is in the front room and hallway of the house, it sells newspapers and sweets with a few other things like eggs and local veg in season and cakes, if Mary has had time to bake.
The shop also sells pig feed, she has an arrangement with some of the cottagers who have the feed for free and when the pig is slaughtered half of the pig comes back to the shop.
Mary is a regular at church and often goes to visit the elderly and sick with 'Beef Tea' her cure all. She sometimes does the church flowers from her garden and helps to run jumble sales for the war effort.
In this small community Mary has a special arrangement with Mr Richards the Headmaster to have him deliver the odd letter to a couple of soldier's families where they have difficulty reading. Illiteracy was less of a problem and rarely spoken about, however where there were difficulties sympathetic help was given in confidence.
Mary has 2 sons Jack (20) and Charley (17) who have enlisted in the army. Charley did so under age and got away with it. Mary gets pretty postcards from Charley regularly but not much from Jack. She is worried and sends them both regular letters and food parcels with cake and a treat of chocolate.
Mary also has 2 daughters, Aggy (22) who is the post lady, she delivers the letters, parcels and telegrams around the local villages on her bicycle. Aggy likes fashion and often makes the costumes for fund raising entertainments. The youngest is Liza (6) she is the pretty sweetheart of the family, she is doing really well at school and has already been given a certificate of merit for knitting socks for servicemen.
RFC pilot
Francis Bingham was born in 1893 into a privileged family. His parents both came from pillars of Bristolian society and his father now directed the family's merchant bank. Its prestigious clientele included many of the merchant families, ship-owners and wine importers of Bristol.
Francis had boarded at Clifton College where he was in the top tier of students. He had a particular penchant for mathematics and the sciences and was a very keen sportsman. He played both cricket and rugby for the school, which he shared with fellow student and family friend Freddie Mills. In addition to sports, Francis was fascinated by speed and longed for a motorcycle: he was also a keen photographer, notably of Bristol's architecture and all things Brunel.
In 1912, Francis once again joined his friend Freddie at Cambridge, reading Physics at Corpus Christi. He had a wonderful first 2 years there however at the start of his third year he was desperate to postpone his studies and join the army. His father convinced him to complete his degree and in 1915 Francis applied for a commission in the recently formed Royal Flying Corps.
Francis had to obtain his pilot's licence privately to stand a better chance of becoming an RFC pilot. Once doing so Francis progressed as a 2nd Lieutenant in No. 2 Squadron serving in France. Flying a B.E.2c aircraft, Francis undertook roles in observation missions taking photographs of German positions. This dangerous work left the aircrews exposed to almost constant enemy anti-aircraft fire.
Prior to his squadron's role in the lead up to the Battle of The Somme, Francis had travelled back home to visit a comrade recovering from his injuries at Cleeve Hill Hospital, and it is here that he met the young nurse Hilda Thorne.
School boy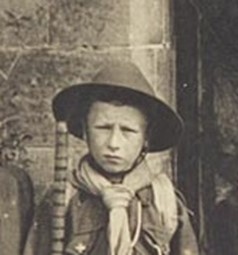 Alfie Pyke was born in 1905 and attends Yate National School, reluctantly. He finds the war very exciting and hopes that school will soon be closed for good. He supports the war effort by picking blackberries and collecting eggs to be sent to wounded troops, and gathering conkers for cordite. This work is especially satisfying as the children are given half days off school to carry it out.
His father, Harold Pyke (32), is serving in 12th Glosters "Bristol's Own". He enlisted in 1914, one of the first men to join the battalion. Keen to do his bit for his country, he writes home whenever he can and usually asks for a parcel to be sent as this is his one luxury.
Alf's mother, Anna Pyke (28), works hard to keep the house together while her husband is away fighting. She makes money by taking in soldiers as lodgers but is worried she will have to find work in a local factory as she is finding the food shortages hard.
His younger sister, Catherine Pyke (7), is often off school to help her mother keep house and look after their soldier lodgers. Catherine is a talented knitter proud of her Empire Day certificates awarded for the socks she has been knitting.
Alf is a member of 1st Chipping Sodbury Scouts and delivers messages on his bicycle for visiting troops (including North Lancs and Bristol's Own in Chipping Sodbury) and occasionally the local police hoping to earn a War Service scout badge. Alf hopes to become a Sea Scout and travel to the south coast of England to work on the coast watch.
Memorials
You can find memorials in South Gloucestershire on our war memorial website.