Climate and nature emergency community engagement
South Gloucestershire has a strong network of groups taking action on the climate and nature emergency. To tackle this emergency however, we need everyone within our communities not only to get involved on a personal level, but also at a community level.
Free online training
Take our free online training course to find out about the climate and nature emergency and how you can take action. It should take around 45 minutes to complete.
South Gloucestershire climate and nature emergency community engagement group
We have started a climate and nature emergency community engagement group. This is run jointly with CVS South Gloucestershire (Community and Voluntary Services).

The group is open to everyone in South Gloucestershire and meets quarterly. You can sign up to our climate change mailing list to get group information. You can also email climate.emergency@southglos.gov.uk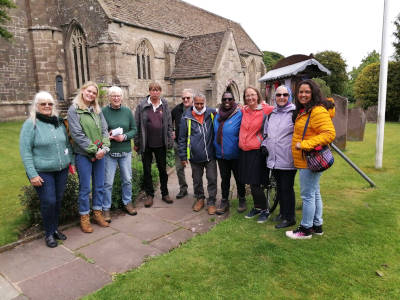 There are also local groups that you can get involved with directly.
The map below provides details of these existing climate and nature emergency community groups and how to contact them.
To get involved in practical work to restore nature and improve climate adaptation in local parks and open spaces find out more on our The Hive – South Gloucestershire Community Spaces Network webpage.
We are currently working on our local climate and nature action plans toolkit.
Local nature action plans
We have produced guidance about local nature action plans to support town and parish councils. They can also read our local nature action plan field guide and business nature action plan.
This will help them to understand biodiversity and build and submit their own plans to help.
Completed town and parish council local nature action plans:
Town and parish councils and local groups taking action
Resources
You can download and print out our A4 No Mow May posters:
Social media
You can share the following images on your own social media channels:
.
You can also read our social media toolkits for: