Umbrella network
The name for this network stands for Urban Multi Wireless Broadband and IoT (Internet of Things) Testing for Local Authority and Industrial Applications.
What we are doing and why
We are installing wireless sensor nodes on some of our lampposts along the A4174 Ring Road, between the University of the West of England at Frenchay and the Bristol and Bath Science Park at Emersons Green.
The installation will require traffic management along the A4174 Ring Road, including the use of narrow lanes, intermittent lane closures and some complete closures.
The Umbrella network will connect key research and economic growth locations across South Gloucestershire via fibre and wireless connectivity creating a new research and development testbed for digital technology industries. This project is not installing any 5G equipment along the route.
It will support innovation and the future development of skills and knowledge within South Gloucestershire.
The first phase will connect Bristol and Bath Science Park, the National Composites Centre (NCC) and the Institute for Advanced Automotive Propulsion Systems (IAAPS) at Emersons Green with the University of the West of England at Frenchay, including the Bristol Robotics Labs (BRL) and FutureSpace.
Project timetable
Installing the wireless sensor nodes started in May 2020.
Phase 1 runs along Coldharbour Lane from the A4174 to the UWE campus and along the A4174 from UWE to the M32 junction.
Phase 2 will be inside the UWE campus and will be managed by UWE
Phase 3 runs along the A4174 Ring Road between the M32 junction and the Bristol and Bath Science Park
Work is scheduled to be completed by 31 March 2021.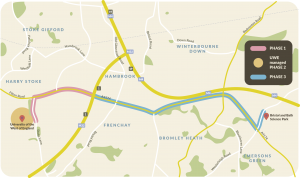 Umbrella project phasing map
Cost
The cost of the project is £6.797million with £3.685million funded by the West of England Local Enterprise Partnership through the Local Growth Fund, administered by the West of England Combined Authority. The remaining £3.112million is being funded by Toshiba Research Europe Limited.
Keep updated
We will post updates on this page.
Sign up to receive updates on major roadworks in South Gloucestershire by email.
Information will also be posted on our Facebook and Twitter accounts.