Wraxall Road roundabout (through-about)
Page contents
What we are doing
We are making major improvements to Wraxall Road (known locally as Woodstock) roundabout to help reduce congestion and cater for increased traffic flows on the A4174 ring road in the future.
The scheme also aims to reduce the number of collisions at the roundabout and improve safety for all road users, improve air quality at this location and reduce congestion on approaches to the roundabout.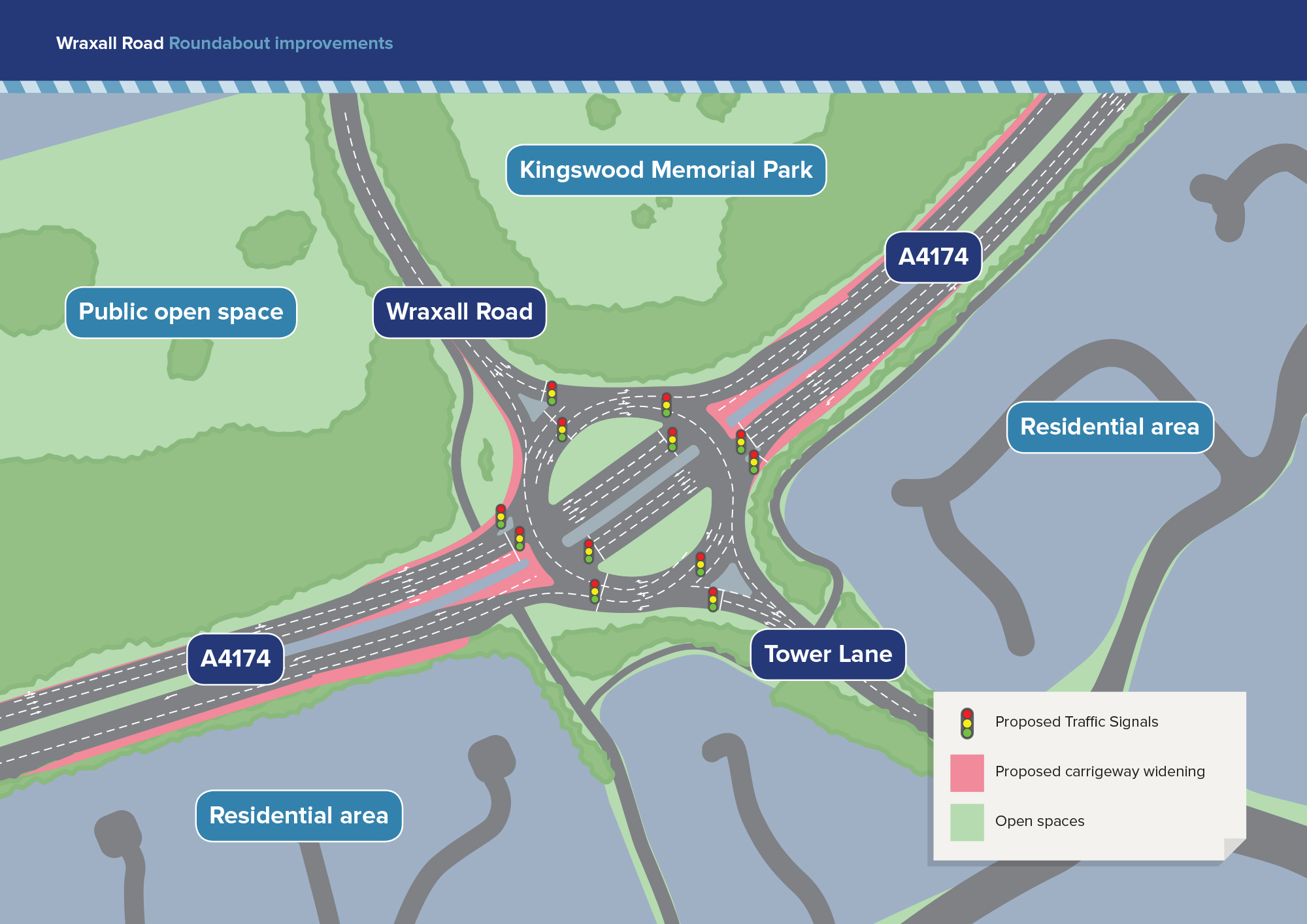 The scheme involves converting the existing roundabout into a fully signal controlled 'through-about', a roundabout with straight ahead traffic lanes running through the centre. This is the first of its kind in South Gloucestershire but is similar to other successful models elsewhere in the country and abroad.
Works will include:
widening all approaches to the roundabout to three lanes of traffic
installing new traffic signals on the approaches and in the through about
creating three lanes of traffic in each direction through the roundabout
removing some vegetation on verges to facilitate the extra lanes
Project timetable
Work will start on site on Saturday 1 August 2020 and is scheduled to take 13 months to complete.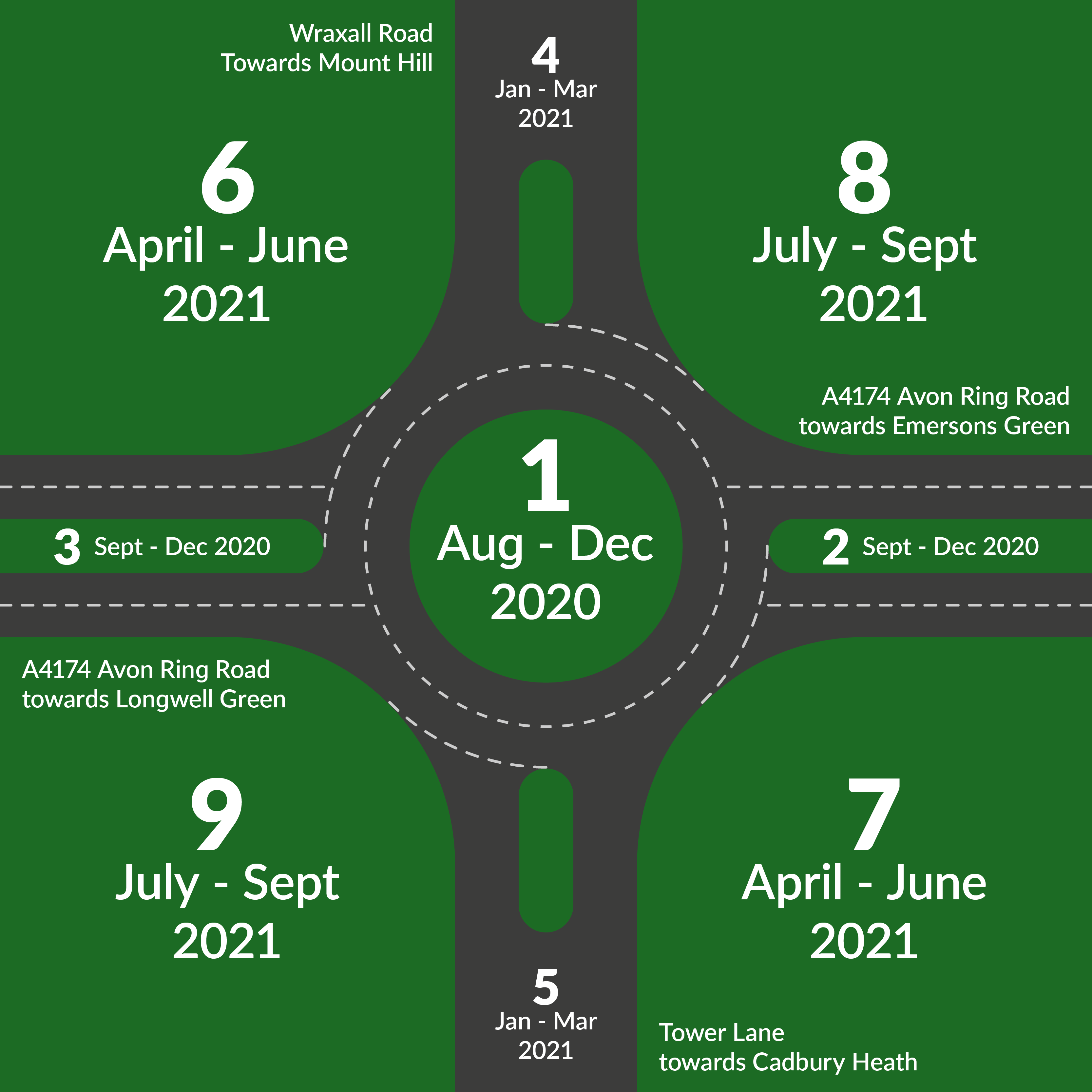 Latest project news
Update – Wednesday 17 March
Road closure update
Both the northbound and southbound closures of Tower Lane and Wraxall Road have now been removed.
The road closures were in place while work was carried out as part of the project to convert the Wraxall Road roundabout (known locally as Woodstock roundabout), into a fully signal controlled through-about (a roundabout with traffic lanes running through the middle).
Lane closure update
Motorists are advised that a lane closure is in place on the A4174 Avon Ring Road on the approach and departure to the Wraxall Road roundabout.
The lane closure is in place southbound along the A4174 Avon Ring Road, between the Deanery Road roundabout, through Wraxall Road roundabout and on towards Kingsfield Roundabout. This lane closure will need to remain in place around the clock for approximately 12 weeks, while work takes place to construct the new southbound carriageway.
During these works there is also a need for a lane closure in the northbound direction however this will be limited to off-peak working between 9am and 4pm.
We apologise for any inconvenience caused by this work.
Update – Thursday 17 December
In the New Year work will begin on the next phase of work and will focus on the side approach roads Wraxall Road and Tower Lane.
The work will involve the removal of vegetation, the removal of existing kerb lines, the installation of new surface water drainage systems, road widening and the installation of traffic signals infrastructure. Landscaping plans are currently being developed for post-construction.
Work will be carried out during the daytime Monday to Friday only. If weekend working is required this will be kept to a minimum and we will notify the local community.
This phase of work is due to start the week commencing Monday 18 January 2021.
Traffic management
To enable this next phase of work it will be necessary to close both Tower Lane and Wraxall Road to all traffic in both directions at the roundabout. These closures will be in place from Monday 18 January 2021 for approximately 8 weeks. This will mean that traffic will not be able to access or exit the Wraxall Road roundabout from either road. The roundabout will become a straight through road only.
From Monday 15 March 2021, Tower Lane northbound only (towards the roundabout) will need to remain closed for approximately 8 weeks to enable further works along this stretch of road. It is hoped this work will be completed by the beginning of May.
The road closures will need to remain in place 24-hours a day for safety reasons.
These dates may be subject to change and we will continue to keep the community up to date.
Signed diversion routes will be in operation via Grimsbury Road to the north and Tower Road North to the south.
We apologise in advance for any inconvenience that may be caused by these works. Our teams are working hard to minimise any disruption.
Bus services
The 42 bus service will be diverted as a result of the closures. From Cock Road it will go via Grimsbury Road, A420, Tower Road North, Tower Lane and Craven Way, where it will resume its usual route to Cadbury Heath and Cherry Gardens.
Keep updated
Sign up to our newsletter to receive updates on major roadworks in South Gloucestershire by email.
Information and updates will also be posted on our Facebook and Twitter accounts.
Questions and answers
Why are you making these changes?
The A4174 ring road is a principal route in the greater Bristol area providing a link between the A4 and Bath in the south to the M32 and the M4 to the north. The ring road also provides access to local residential and employment areas such as the Bristol and Bath Science Park.
Wraxall Road roundabout currently experiences congestion during the busiest hours on weekdays, with queuing causing delays to ring road traffic but also to vehicles entering the roundabout using Tower Lane and Wraxall Road. This includes local bus services. The delays are expected to increase as traffic levels grow, mainly due to more housing and jobs planned for the Bristol area.
By making these changes, we aim to:
reduce the number and severity of collisions at the roundabout
improve traffic flow along the A4174 ring road
maintain capacity and reduce delays on the Wraxall Road and Tower Lane approaches to the roundabout
improve air quality in the vicinity of the roundabout
future proof the network for the additional housing and development schemes coming forward in the area
Is there any evidence through-abouts help with traffic flow and reduce congestion?
We have carried out extensive traffic modelling to predict what will happen to the roundabout if we do nothing, compared to what we predict will happen if the proposal is implemented. The video below uses current traffic levels and forecasted levels in 2036 at the same specific time of day (8.45am).
Video showing modelled traffic flow for Wraxhall Road roundabout
Who is carrying out the work?
The council will lead on the scheme and use specialist sub-contractors where required.
How much will it cost and who is paying for it?
The cost is approximately £5.9million and is being funded by the West of England Combined Authority and Local Enterprise Partnership through the Investment Fund, administered by the West of England Combined Authority.
Is this scheme affected by Covid-19?
We are continuing with this scheme as planned. Traffic levels may be lighter when we start work in August 2020 which will help us to progress the scheme. We cannot guarantee the scheme will be unaffected if there is a second wave of the virus.
What will be the impact on traffic on the ring road and nearby routes during the work?
The majority of the works will be carried out under narrow lanes to reduce the impact of the scheme on traffic. The ring road is a major route so any restrictions will have an impact and lead to a delay particularly at peak times.
However, some of the work due to take place will require lane closures. To limit disruption, this work will be carried out overnight when there is less traffic on the roads.
Mobilisation works will take place overnight on Saturday 15 August and Sunday 16 August, between 8pm and 6am. These works are to remove the existing permanent vehicle restraint systems, also known as crash barriers or safety barriers.
Overnight work will then resume from Monday 7 September and continue until Friday 18 December. Overnight work will be carried out Monday to Friday, between 8pm and 6am.These works are to remove the existing central reservations and construct new ones.
During the overnight works, the carriageway in both directions of the A4174 will be reduced to one lane between Deanery Road Roundabout and Marsham Way Roundabout.
We apologise for the inconvenience caused and will do everything we can to keep people moving and informed with up to date information to help with journey planning.
Will the ring road be closed during this scheme and what will the diversion be?
As the scheme progresses, road closures will be required but we will implement these overnight where possible and limit closure periods as much as possible to reduce delays and keep the network flowing.
The first road closures are taking place overnight between Saturday 1 August and Friday 7 August, from 8pm to 6am. This is so we can set up the first stage of the temporary traffic management. All key stakeholders such as emergency services have been notified.
The diversion route will be via the A420, A4320 St Philips Causeway, A4 Bath Road, A4174 Avon Ring Road and vice versa.
Will cyclists, pedestrians and bus services be affected by the scheme?
For the majority of the construction programme cyclists and pedestrians will be unaffected.  However, when the road needs to be closed alternative arrangements for these groups will be in place.
All traffic including bus services may be subject to some delays while narrow lanes and lane closures are in place. When we need to close roads there will be diversions in place.
Is this scheme being carried out at the same time as other schemes in the area?
There are several schemes taking place in the east fringe area of South Gloucestershire including:
Umbrella – installing wireless sensor nodes to connect key research and economic growth locations via fibre and wireless connectivity between University of the West of England and Bristol and Bath Science Park.
structural improvements to the Newlands Bridge over the ring road at Emersons Green and associated highway improvements in the vicinity of the bridge.
HOV lane – improvements to bus services operating along the A4174 ring road.
The traffic management required for each of the schemes varies and we always aim to minimise the impact of overlapping schemes to road users and residents.
We apologise for the disruption but we do receive feedback from residents telling us that a condensed period of heavy congestion is preferred to stretching roadworks out over a number of years.
Some of these schemes are funded externally and as part of our successful bids we are required to complete works in a certain time period, allowing us to future proof this already congested part of the highway network.
What's being done to help residents and road users during the work?
We will be providing advice on alternative routes and, where possible, encourage sustainable modes of travel or a change to travel times. We will also be engaging with employers in the area to support staff with flexible working patterns, allowing more home working and minimising business travel as well as offering sustainable travel facilities, such as showers and cycle racks.
Information and regular updates will be posted on this webpage and our StreetCare Facebook page.
Will the impact of closures on other roads in the area be monitored?
Yes. We will monitor traffic in the area during the construction phase and, if some areas experience severe difficulties, we will consider implementing additional measures to help ease congestion.
Was there a consultation about this scheme?
Yes. A public consultation was open between 6 February and 29 March 2019 and included an online questionnaire and several public drop-in sessions. A report of responses received during the consultation was published on 15 June 2020.  It can be found on the scheme consultation homepage.