Where the bees are
The map below shows where to find the bees this summer.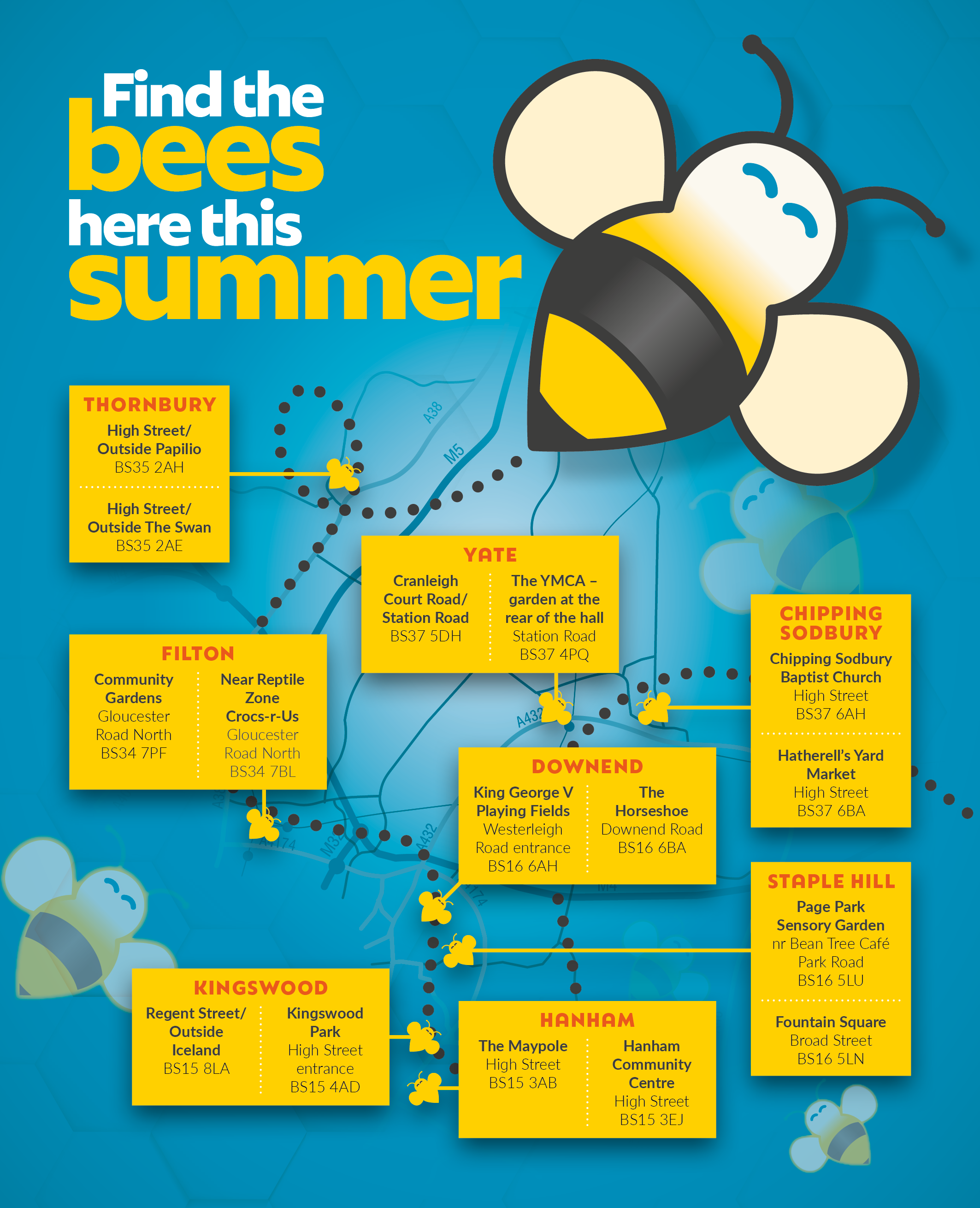 You can also download this map as a PDF.
Traders accepting bee trail vouchers
Amigos Cocina
Barber Joe's
Brook's Bar
Cotswold Vintners
Fish and Fields
Heather Norman
Jon Howell Family Butchery
Koala Kreations – Fabric and Haberdashery
Natural Treats Ltd
Nicky's Street Food Hub
Shabby Chic
Swagger Gifts
The Card Boutique
The Coffee Bean
The Cottage Bakery
The Hamptons Delicatessen
The Health Shop
The Horseshoe
The Purple Saurus
The Sodbury Florist
The Squire Inn
Toll House Clinic
Craig Anthony
Downend Cards and Gifts
Fabrics Plus
Good Frydays
Kustom Floors and Furniture
Melanie's Kitchen
Mokka Lounge
Victoria's Health and Beauty
West 70 Photography
Crocsrus
Bristol Pet Stop
Goto – IT
Little Bathroom and Boiler Company
Rozmaryn Polish Delicatessen
54A Hair & Beauty
A.S.Golding
Artime – Vincent Brown
Carpet Cave Ltd T/A Hanham Flooring
Eclectic Gift Shop
Fleurtations Florist
Hanham Florist Ltd
John Woods Cycle Repair Centre
Ninos Barber Shop
Pzazz
Sassy hair studio
Sitcky Fingers Bake haus ltd
Style Creation
Travel Buddy UK
Venus School of Dance
Beauty Within
Fresco Fish Market
Fuzchias Hair
Gamescene
Mobile Phone Repair Centre
Rainbow Bakery Café
Share Bristol
American Candy Bristol
Bunch Florists
Dury and Tippett Ltd
Farleys Pet food
Hair and Beauty @ the Square
Jason's Trading Post
Jay Jay's Hair
Platinum Pet Care
Sweet Treats
The Card Shop
The Friendly Eco Bristol
Bristol Coffee Company
Beespoke
C The World
Castle Crafts
Celebrations Fair
Elite Fitness
Hard Pressed for Time
Hawkes House
Holistic Massage and Bodywork
Horders – Thornbury Press
Jolies Fleurs
L.E. Riddiford
Lee's Mend A Shoe
Papilio (Heritage) Ltd
Ronnie's
Roobroo
Rosie & Rex
Shampooches
Surroundings
Swan Thornbury Ltd
The Art Barn
The Malthouse
The Thornbury Clinic
The Thornbury Deli
The White Lion
Thornbury Garden Shop
Pisces
Bike Station UK Limited
Del's Café in Station Road
Hollisters
Susan Charles Ladies Hairdressers
More businesses are being added all the time to the list.
If you an independent business trading in these locations and want to accept the vouchers, contact us at highstreets@southglos.gov.uk