Making public places safer
Our approach to keeping people safe during the coronavirus pandemic is made up of five themes:
High Streets: supporting our high streets through recovery and bringing back trade within a safe and secure environment
Cycling and walking: supporting businesses to help staff travel to and from work safely and sustainably by promoting key cycling and walking routes
Schools: supporting schools by protecting students and providing safe access and spaces at and near school gates
Parks and open spaces: supporting our residents by providing access to safe environments in our parks and open spaces for people to exercise and enjoy leisure time
Public transport: supporting our public transport partners by managing bus stops safely
We also employ Covid-19 engagement officers to keep you safe in your community and help stop the spread of coronavirus.
Read about each of the themes below by expanding the sections.
High Streets
We are introducing measures that support and encourage more walking and cycling in and around our town centres and local communities. We will need to provide extra space for people to get around safely, and be able to maintain social distancing, whether on foot or bicycle.
There is limited space available, so road space for cars will need to reduce. We will however continue to maintain our network of council car parks and their associated free parking. These measures will support local trade and businesses, enabling easy and safe access for the public.
It is mandatory to wear a face covering in any shop.  Businesses are welcome to download and print our face covering poster for use in shops.
Staple Hill High Street
(July 2020)
The measures below were implemented in Staple Hill High Street from Monday 13 July 2020:
barriers installed to widen the pavement (using parking spaces) at 'pinch points'
the bus stop moved to outside the former Lloyds bank (it was not possible to move the bus shelter and this is still in its original position)
Additional social distancing road signs and pavement markers have been installed
Signal Road and Charnell Road are closed to through-traffic under separate experimental traffic orders to prevent congestion on nearby roads and to improve access to the Bristol Bath railway path for cyclists and pedestrians.
Have your say about the change to Signal Road.
Have your say about the change to Charnell Road.
For more information read our Staple Hill High Street frequently asked questions.
Thornbury High Street
(July 2021)
Since the decision to make the changes to Thornbury High Street permanent, we have started working to improve the look and feel of the High Street for all visitors and businesses.
These include putting in road marking to define the road space for motorised vehicles, improving signs, measures to slow traffic entering and leaving the high street, installing additional street furniture and more temporary ramps on the kerbs to improve access.
Work to put in the road markings will take place overnight on Wednesday 27 and Thursday 28 July from 6pm. Unloading bays will also be marked outside Papillio.
We are working with the Town Centre Partnership and new equality and accessibility focus group to help develop the changes and will be engaging further with businesses and residents on the following areas:
choice of fixtures and fittings
positioning of loading / unloading bays
positioning of disabled parking
positioning of drop off and pick up points
space allocation for businesses wanting to make use of the area
how the one way road for vehicles will look and work so it is safe but does not detract from the high street experience
Later this summer we will hold by appointment drop in sessions to view plans and meet officers and elected members to discuss any concerns.
In the autumn further consultation will take on the specific future Traffic Regulation Orders for the scheme.
We will release updates through our usual channels, but if you want to make sure that you are included please email highstreets@southglos.gov.uk
(June 2020)
The measures below were implemented to help to boost the economy and allow people to shop safely while we continue to live with Covid-19 restrictions:
the High Street between Chapel Street and Castle Court is closed to all through traffic, effectively pedestrianising the town centre. Northbound traffic is diverted to Rock Street via Chapel Street. Southbound traffic is diverted to Rock Street and Midland Road via The Plain
parking on the High Street has been suspended except for vehicles delivering to shops
the police parking bay is now reserved for blue badge holders and extra disabled parking spaces have been added
a three-metre gap in the main carriageway to allow deliveries and emergency vehicles through which is monitored by cameras
a one-way traffic system for deliveries through the closure southbound (from Castle Court towards Chapel Street)
the road between Chapel Street and The Close is restricted for residents and blue badge holders
The pedestrianisation of the High Street offers future opportunities such as outdoor space for cafes, pubs and restaurants to use while Covid-19 restrictions are in place (and beyond) as well as future events to create a vibrant and safe destination for shopping and leisure.
The changes have been introduced under an experimental traffic order (ETO). The consultation for Thornbury High Street is now closed and the feedback report is available here. More details about this scheme are available on our consultation website.
The Thornbury High Street scheme will be discussed at Cabinet on Monday 7 June.
Further information is available in our Thornbury High Street frequently asked questions document and traders are welcome to download and print our social distancing poster to use on their premises.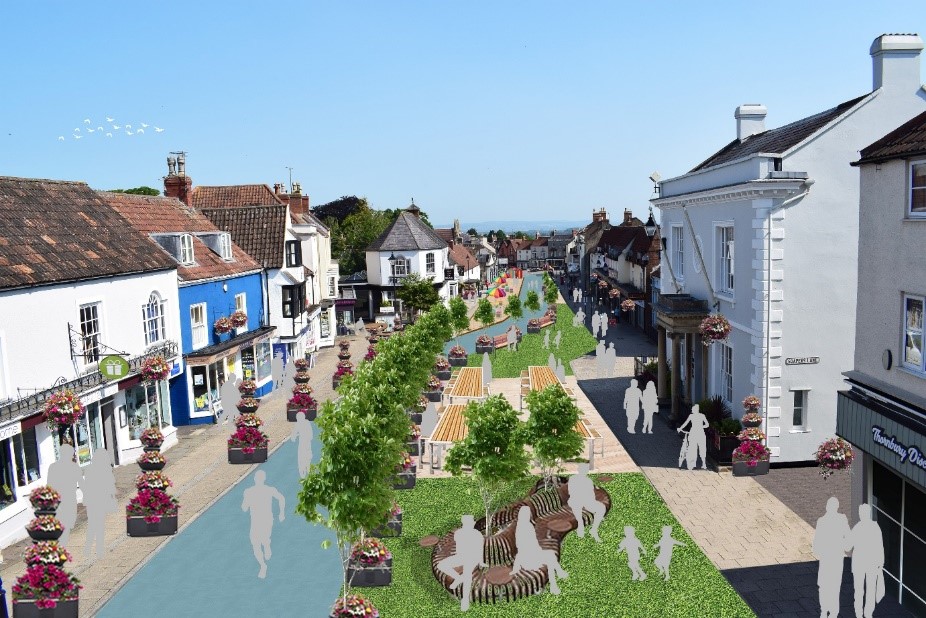 An artists impression of Thornbury High Street pedestrianisation
High streets have faced significant challenges for many years and the Covid-19 pandemic has not helped the situation, with trading remaining difficult. We are reviewing other High Streets in South Gloucestershire to help people stay safe while they are shopping and support our high streets to help them thrive.
Cycling and walking
We want to encourage those who have taken up cycling or walking to work to continue doing so, whilst maintaining social distancing and helping us all to stay safe.
We are:
investigating pop-up cycle lanes along important routes and at busy areas
clearing vegetation on some of our busiest cycle routes to maximise the width of pathways
improving access to cycling and walking routes
installing social distancing reminder signs and stencils on pavements
bringing forward some of our existing schemes while the roads were quieter – Great Stoke (rabbit roundabout) in Stoke Gifford has been completed three months early with new shared use pathways to help with social distancing. The shared use pathway and new crossing on the A4018 to provide safer facilities for cyclists and pedestrians started in May 2020 instead of January 2021 and is now complete.
Southmead Road, Filton cycle lane
(September 2020)
We have introduced a new cycle lane on the northbound carriageway of Southmead Road in Filton, between the junction with Braemar Avenue and Brandon House (opposite Charlton Avenue). This is an area where we knew cyclists used the pavement and the new lane provides improved facilities to make cycling a more attractive alternative to driving.
The cycle lane is separated from vehicles using raised kerbs, known as orcas, and white lines. Double yellow lines will also be installed to make sure the cycle lane is kept free from parked vehicles.
The cycle lane has been installed as an experimental traffic order (ETO). The consultation for this scheme is open until 4 April 2021.
Phase 2 consultation to continue the existing northbound cycle lane from Charlton Avenue to Filton Roundabout. The proposed work will install:
a combination of kerb segregated cycleway and on carriageway cycle lane, requiring changes to traffic lanes
dedicated light signals for northeast bound cyclists at the Golf Course Lane junction
improvement of the existing pedestrian crossing facilities across Golf Course Lane and Southmead Road
The consultation for this scheme is closed. More information is available on our Filton- Southmead Road – COVID-19 cycling Improvements – Mandatory cycle lane consultation page.
Station Road, Yate cycle lanes
(May 2021)
We have put a variation order in place to change the loading area restrictions following feedback received from the consultation of the Station Road cycle lane scheme (Phase 1), which closed on 1 March 2021.
The morning loading times for the area between properties 36 and 48 Station Road has been adjusted to 8.00am – 9.00am. The proposal has been made under an Experimental Traffic Order and is under public consultation until Wednesday 24 November.
(August 2020)
Station Road in Yate was an area identified as a priority for improving safety for cyclists and pedestrians due to the numbers already using this route to travel and the increase in use as more people started to return to work and schools reopened in the summer.
On Monday 24 August we installed cycle lanes on both sides of Station Road in Yate. The lanes run from the Badminton Road roundabout to the B&Q roundabout to create a safer environment for pedestrians and cyclists and make it as easy as possible for people to maintain social distancing.
The consultation for this scheme is closed. More information is available on our Yate- Station Road / Badminton Road Cycle Lanes – Experimental Traffic Order – Statutory notice consultation page.
Response to Sustrans independent review.
Station Road, Yate cycle lanes frequently asked questions.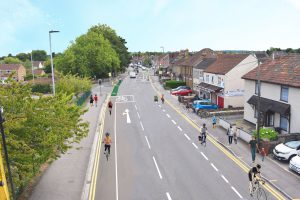 An artists impression of Station Road, Yate
Station Road/Kennedy Way cycle lanes (Station Road Phase 2)
Update: This phase is no longer going ahead following feedback received via the consultation. We plan to include a more ambitious proposal for cycle lanes around Yate town centre under the Yate Master Plan
Following the introduction of cycle lanes on Station Road in Yate, the next stage will be to extend them beyond the B&Q roundabout to continue on Station Road and Kennedy Way around the centre of Yate. The project aims to continue improvements to cycle links, promote health and fitness and reduce air pollution.
The consultation for this scheme is closed and the report will be available shortly.
Find out more about the Station Road/Kennedy Way cycle lanes (Station Road Phase 2) on our consultation website.
Station Road/Kennedy Way cycle lanes (Station Road Phase 2) frequently asked questions
Badminton Road – Yate to Coalpit Heath cycle lane improvement
We are installing a new cycle lane which will connect Yate with the A4174 ring road, as part of our long-term ambition to encourage more active and sustainable travel in the area. The 3.5 mile section of cycle lane will be delivered in four stages:
Nibley Lane to Coalpit Heath
Coalpit Heath to A4174 ring road
Nibley Lane to Stover Road
Coalpit Heath village
The first stage of the project will involve replacing the unprotected cycle lanes on Badminton Road between the Nibley Lane junctions and Coalpit Heath with a new cycle track raised up between road and footway level, providing a separated and comfortably safe, direct and accessible route for cyclists on this main route between Yate and the ring road. Work is due to begin in January 2022.
The consultation for this scheme is now closed. More information is available on our Frampton Cotterell and Yate – A432 Badminton Road – Yate to A4174 Ring Road Reallocation of road space for cycling – Stage 1 consultation page.
Bristol Parkway railway bridge
(June 2020)
The road under the railway bridge has been reduced to one lane of traffic using shuttle traffic signals to make space for cyclists and pedestrians to socially distance while using the shared use pathways on either side of the carriageway.
We are also exploring a permanent solution to replace the current arrangement and continue providing a route for pedestrians and cyclists under the bridge.
The engagement survey for this scheme is closed and the Parkway bridge engagement survey summary is now available.
Find out more about Bristol Parkway railway bridge on our consultation website.
Schools
We are helping to maintain social distancing with a number of measures including:
creating additional footpath space by reallocating some road space
suspending parking bays in some locations
installing reminder signs and stencils on pavements
School Streets
School Streets is a national campaign to reduce traffic congestion, improve air quality and general road safety outside schools. School streets also encourage active travel to and from school in support of healthier lifestyles for families as well as helping carers, parents and children to socially distance when entering and leaving school.
Cones and signs are put out during drop and pick up times each day to remind motorists about the measures and to mark out the pedestrian and cycle zones before permanent measures are installed in the future. Access for emergency vehicles is available, but motorists should not enter or leave the areas during these times in the morning and afternoon on each school day. Permanent diversion signs are in place to ensure drivers are aware of the closure.
We have consulted with residents who are directly affected by the School Street schemes, informing them that the scheme is a trial which we will continuously monitor and review.
School Streets are currently in place during term time at:
Frampton Cotterell Church of England Primary School
Kings Oak Academy, Brook Road Kingswood
Abbotswood Primary School, Kelston Close, Yate
Another School Street is due to be introduced at John Cabot Academy in January 2021.
Parks and open spaces
All our parks and open spaces have remained open since restrictions were put in place. As guidelines have now changed and people are getting out and about more, it is essential that these facilities remain safe spaces for us all to visit.
Measures we have introduced include:
guidance for all visitors to our parks and open spaces
social distancing markers in our busiest parks
temporary closure of some car parks and facilities
signs, banners and stencils to remind users of social distancing
new protocols and risk assessments for friends and volunteer groups
Public transport
As part of our commitment to help people return to work safely, we have introduced a number of social distancing measures at bus stops and public transport hubs. These include signage and stencils on the pavement at key stops in Kingswood, Staple Hill, Downend, Emersons Green, Yate and Thornbury.
Schemes in place
The map shows you the measures implemented across South Gloucestershire to help maintain social distancing. Select a marker for further information on that location.
Have your say
You can email PlaceFeedback@southglos.gov.uk or call 01454 868000.
To make a suggestion for improvements in your area, complete a request form.