Making public places safer
As we begin to recover from the coronavirus pandemic and lockdown restrictions are eased, our roads and open spaces will become busier. The importance of staying safe and saving lives by keeping to social distancing guidelines still remains. Being able to keep at least 2 metres apart when outside our homes will ensure we help protect the most vulnerable and reduce the rate of infection.
As a council, our statutory duty is to make these rules as easy as possible to follow. This might be taking simple measures, such as cutting back vegetation to widen footpaths or installing signs and social distancing reminders on pavements. Some schemes however will have a bigger impact, such as making our town centres pedestrian areas only or creating pop-up cycle lanes at busy points. We also want to maintain some of the positive changes seen during this time, such as an increase in cycling and fewer cars on our roads.
We need to work quickly to introduce these measures and help to keep everyone safe, whilst still engaging with communities and road users. We are constantly reviewing any measures we put in place and have fast tracked our procedures for suggesting new safety schemes.
Our approach to keeping people safe is made up of five themes:
High Streets: supporting our High Streets through recovery and bringing back trade within a safe and secure environment
Return to work: supporting businesses to help staff travel to and from work safely and sustainably by promoting key cycling and walking routes
Schools re-opening: supporting schools return by protecting students and providing safe access and spaces at and near school gates
Parks and open spaces: supporting our residents by providing access to safe environments in our parks and open spaces for people to exercise and enjoy leisure time
Public transport: supporting our public transport partners by managing bus stops safely
Read about each of the themes below by expanding the sections.
High Streets
We are introducing measures that support and encourage more walking and cycling in and around our town centres and local communities. We have had to act quickly to make these changes ready for non-essential businesses reopening from 15 June 2020. These measures are intended to also support local trade and businesses, enabling easy and safe access for the public as well as keeping people safe.
Some shops, restaurants and cafes need to trade outside, immediately in front of their premises. We need to provide extra space for people to get around safely, and be able to maintain social distancing, whether on foot or bicycle. There is limited space available, so road space for cars is being reduced in some areas. We will however continue to maintain our network of council car parks and their associated free parking.
From Friday 24 July it is mandatory to wear a face covering in any shop. Check our information about acceptable face coverings and how to wear and remove postcard. Businesses are welcome to download and print our face covering poster for use in shops.
Staple Hill High Street
Following the adjustment of the original 'shuttle' systems for traffic in the High Street, the measures below were implemented from Monday 13 July:
barriers installed to widen the pavement (using parking spaces) at 'pinch points'
a temporary 20mph zone on the High Street from the Hill House Road junction to the Pendennis Road junction
the bus stop moved to outside the former Lloyds bank (the bus shelter itself cannot be moved and will have to stay in place)
Two-way traffic, parking spaces, the pedestrian crossing on the High Street and access via Page Road have been reinstated. Additional social distancing road signs and pavement markers will be installed. To prevent congestion on nearby roads and to improve access to the Bristol Bath railway path for cyclists and pedestrians, Signal Road and Charnell Road are closed to through-traffic under separate experimental traffic orders.
Have your say about the change to Signal Road.
Have your say about the change to Charnell Road.
For more information read our frequently asked questions
Thornbury High Street
From Monday 8 June, the High Street between The Close and Castle Court is closed to all through traffic, effectively pedestrianising the town centre. This will help to boost the economy and allow people to shop safely as lockdown restrictions are eased. Further information is available in our frequently asked questions document and traders are welcome to download and print our social distancing poster to use on their premises.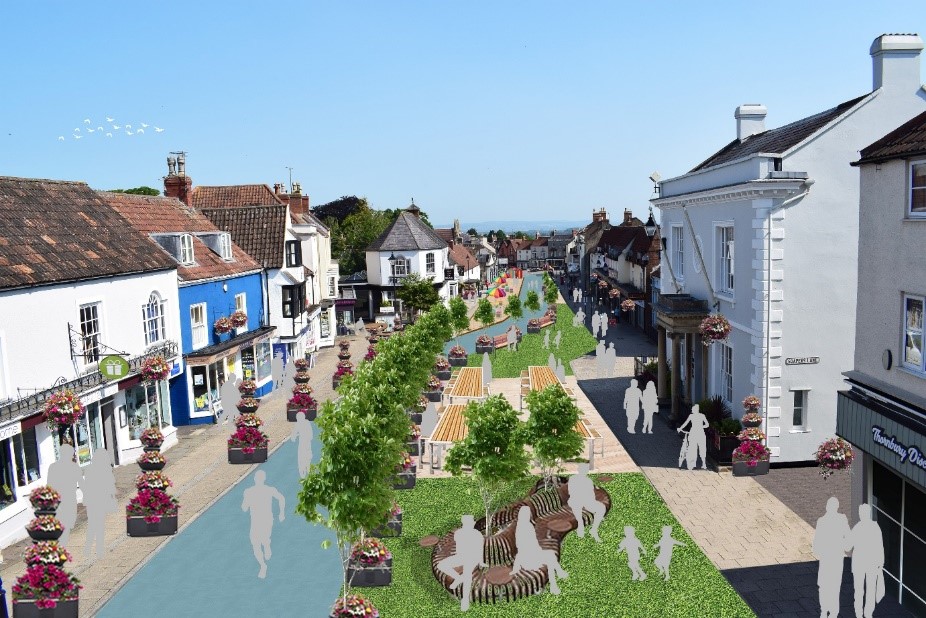 An artists impression of Thornbury High Street pedestrianisation
We have been grateful to receive feedback from a number of traders, hospitality owners, residents and visitors, as a result of which we have reviewed the measures and the following changes have been made to the scheme:
the police parking bay has been changed to disabled parking and extra disabled parking will be added
the 'hard' road closure has been replaced by a 'soft' closure – this means the welfare facilities, security guards, cones and signs have been replaced with barriers, leaving a three-metre gap in the main carriageway to allow deliveries and emergency vehicles through,  this is monitored by cameras – the barriers will be replaced shortly with large, attractive planters that are currently on order
the two-way traffic system for deliveries through the closure has been replaced with a one-way system from the Castle Court end towards Chapel Street
the closure has been extended to Chapel Street with changes to road markings – now the High Street road sweeps to the right, directing traffic into Chapel Street
the road between Chapel Street and The Close is restricted for residents and blue badge holders – this is to reduce the number of vehicles turning in The Close and to protect children exiting the playing fields
From 21 July we are running a 6 month public consultation on the measures in place in Thornbury.
Comments must be sent to us in writing after the measures are in place, and should preferably be submitted using the online questionnaire which will be available on the consultation page until 31 January 2021 (although email and letter responses will also be accepted).
Plans of the changes and Statement of Reason are available on our consultation webpage.
Respond to our online survey at www.southglos.gov.uk/thornburysurvey
Paper copies of the consultation survey can be picked up from Thornbury library when open, or requested by telephone by calling 01454 868000.
For written submissions by other methods, quote reference L3/DFA/STOP/PT.6609 and either:
write to Head of Legal, Governance and Democratic Services South Gloucestershire Council, PO Box 1953, Bristol, BS37 0DB
Hanham High Street
High streets have faced significant challenges for many years and the Covid-19 pandemic has not helped the situation, with trading remaining difficult.
We are looking at how we can support our high streets to help them thrive, and are interested in your views on how we can support Hanham high Street now and in the future.
Tell us your thoughts on what improvements could be made in Hanham by completing our short survey by 30 September 2020 www.southglos.gov.uk/hanhamhighstreet
Return to work
We want to encourage those who have taken up cycling or walking to work to continue doing so, whilst maintaining social distancing and helping us all to stay safe.
We are:
investigating pop-up cycle lanes along important routes and at busy areas
clearing vegetation on some of our busiest cycle routes to maximise the width of pathways
improving access to cycling and walking routes
installing social distancing reminder signs and stencils on pavements
We have also brought forward some of our existing schemes while the roads are quieter:
Great Stoke (rabbit roundabout) in Stoke Gifford will be completed three months earlier – we have opened up new shared use pathways with this scheme to help with social distancing
A4018 shared use pathway and new crossing to provide safer facilities for cyclists and pedestrians – work started on 5 May instead of January 2021 and is due for completion in the autumn
Bristol Parkway railway bridge
From Sunday 14 June, the road under the railway will be reduced to one lane of traffic using shuttle traffic signals. This is to make space so cyclists and pedestrians can socially distance while using the shared use pathways on either side of the carriageway. Further information on this scheme is available in our frequently asked questions document.
Station Road, Yate cycle lanes
On Monday 24 August we installed cycle lanes on both sides of Station Road in Yate. The lanes will run from the Badminton Road roundabout to the B&Q roundabout to create a safer environment for pedestrians and cyclists and make it as easy as possible for people to maintain social distancing.
A second phase is planned for the scheme to link in with existing cycling routes as well as future schemes in the Yate area and planned improvements to transport, sustainable travel and better access to open spaces.
Have your say about the Station Road scheme.
Further information about this scheme is available in our frequently asked questions.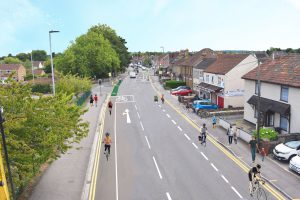 An artists impression of Station Road, Yate
Southmead Road, Filton cycle land
From Monday 14 September we are introducing a new cycle lane along Southmead Road in Filton, on the northbound carriageway only, between the junction with Braemar Avenue and Brandon House (opposite Charlton Avenue). This is area where we know cyclists use the pavement and this will provide improved facilities to make cycling a more attractive alternative to driving.
The cycle lane will be mandatory and separated from vehicles using raised kerbs, known as orcas, and white lines. Double yellow lines will also be installed to make sure the cycle lane is kept free from parked vehicles.
To install the cycle lane, we need to close Southmead Road overnight from 8pm to 6am between Monday 14 September and Sunday 20 September. The closure will be from Braemar Avenue to Brandon House. Access to properties will be maintained at all times but you may be directed to enter at either end of the closure. No waiting cones will be in place during the closure and will be enforced between 8pm and 6am, including the authorised removal of vehicles.
We realise this will cause some disruption and noise (during the process to remove the existing road markings) to residents and for this we apologise.
Schools re-opening
As schools begin to return, we are helping to maintain social distancing with a number of measures including:
creating additional footpath space by reallocating some road space
suspending parking bays in some locations
installing reminder signs and stencils on pavements
To begin, we have concentrated on introducing these measures to 29 primary schools identified as higher risk, due to their busy location or narrow access. This will be followed by working with our secondary schools as they plan to return from 15 June.
Frampton Cotterell Primary School 'school street'
Following a request from Frampton Cotterell Church of England Primary School and communicating with residents directly affected, we are trialling a 'school street' on the road directly outside the school. A section of the road will be closed to motorised traffic between 3pm and 3.45pm Monday to Friday during term time.
A school street ensures that parents, carers, and their children can maintain social distance when leaving the school at the end of the day. School streets is part of a national campaign which also aims to reduce congestion and improve air quality and road safety as well as encouraging active travel to school and healthier lifestyles for families.
Access for emergency vehicles will be maintained. Residents within this section of road will be asked to avoid entering and leaving during the 45-minute closure each day. A member of staff from the school however will be present during the closure to allow residents to use the road if necessary.
Permanent diversion signs will be in place around the area to ensure drivers are aware of the closure.
School streets have also been introduced at King's Oak Academy, Brook Road, Kingswood and Abbotswood Primary School, Kelston Close, Yate.
Parks and open spaces
All our parks and open spaces have remained open since restrictions were put in place. As guidelines have now changed and people are getting out and about more, it is essential that these facilities remain safe spaces for us all to visit.
Measures we are introducing include:
guidance for all visitors to our parks and open spaces
social distancing markers in our busiest parks
temporary closure of some car parks and facilities
signs, banners and stencils to remind users of social distancing
new protocols and risk assessments for friends and volunteer groups
Public transport
As part of our commitment to help people return to work safely, we have introduced a number of social distancing measures at bus stops and public transport hubs. These include signage and stencils on the pavement at key stops in Kingswood, Staple Hill, Downend, Emersons Green, Yate and Thornbury.
Schemes in place
The map shows you the measures implemented across South Gloucestershire to help maintain social distancing. Select a marker for further information on that location.
Have your say
You can email PlaceFeedback@southglos.gov.uk or call 01454 868000.
To make a suggestion for improvements in your area, complete a request form.