Great Stoke roundabout improvements
Page contents
What we are doing and why
We are making major improvements to Great Stoke roundabout (known locally as rabbit roundabout) in Stoke Gifford to help reduce congestion and improve safety for cyclists and pedestrians.
The scheme will also increase capacity at this busy junction, accommodating future traffic and supporting planned housing and employment growth in South Gloucestershire.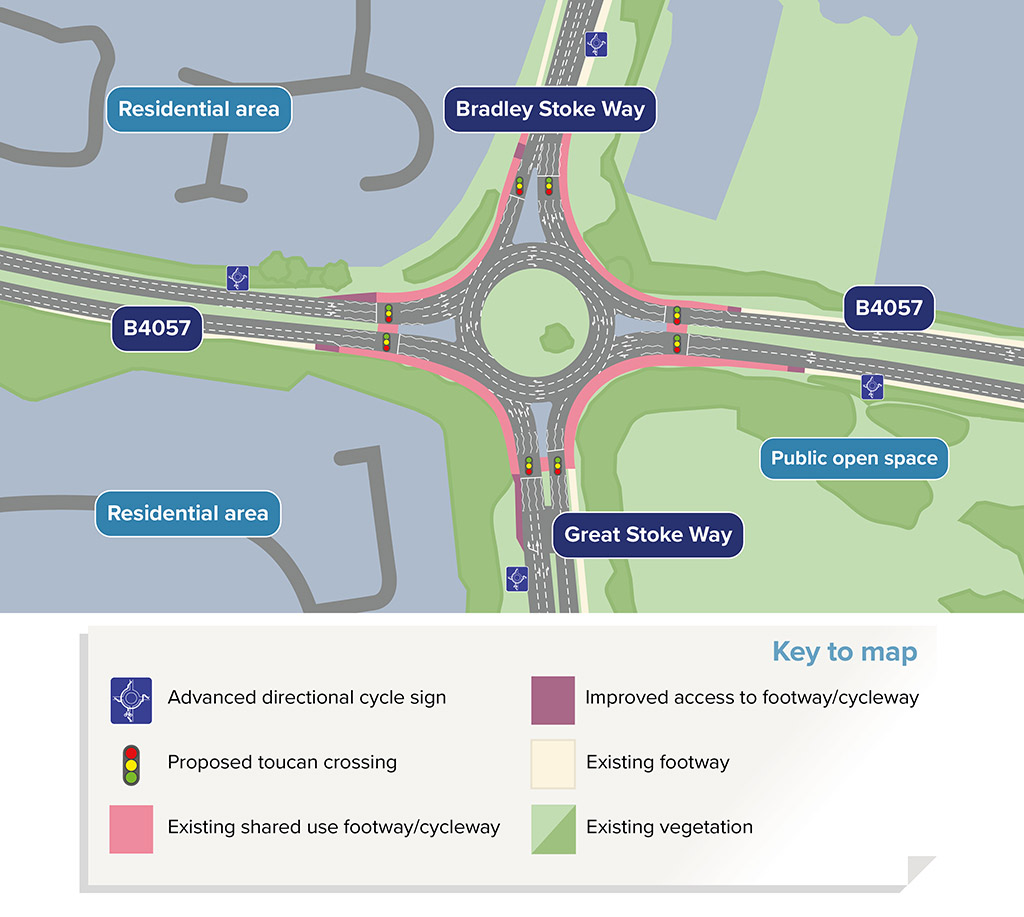 Improvements include:
increasing all approaches to the roundabout from two lanes to three
widening and changes to road markings on the roundabout
toucan crossings on each of the four arms of the roundabout, prioritised for pedestrians and cyclists
new entry and exit points for cyclists to help them navigate the roundabout with clear traffic signs and road markings
widening of shared use cycleways and footways
Project timetable
The main construction phase began in January 2020 and is scheduled to take one year to complete.
Below is an approximate timetable of the road restrictions which will be in place from January to December 2020:
January – April: Narrow lanes and lane closures on Bradley Stoke Way and the B4057, Winterbourne Road
May – July: Narrow lanes on Great Stoke Way and lB4057 approaches
August – October: Overnight closures of the roundabout and off peak lane closures on various approaches to the roundabout
October – November: Overnight closures of the roundabout
October – December: Off peak lane closures on various approaches to the roundabout
We will do everything we can to minimise the impact of this work, but journey times will be affected and we apologise for the inconvenience that this may cause.
Keep updated
Information and updates will also be posted on our Facebook and Twitter accounts.
Answers to your questions
Who will be carrying out the work and how much will it cost?
The council will lead on the scheme and use specialist sub-contractors where required. The cost is approximately £2.9million and is being funded by the West of England Combined Authority and Local Enterprise Partnership through the Investment Fund, administered by the West of England Combined Authority.
What will be the impact during the work?
Most of the work will be undertaken using narrow lanes and lane closures. Narrow lanes will be operational 24 hours a day and lane closures shall be restricted to off-peak hours where possible.
Journey times will inevitably be affected, we apologise for the inconvenience. We will do everything we can to keep residents and road users informed with up to date information to help with journey planning.
Will cyclists, pedestrians and bus services be affected during the work?
Yes. In order to widen the lanes at the roundabout, it will be necessary to close footways and implement narrow lanes on the carriageway. Where footways are closed, fully signed diversion routes will be in operation. Where narrow lanes are in place, we would encourage cyclists to dismount and use the footways. To maintain access for cyclists and pedestrians throughout the work, we will also be constructing temporary facilities including diversion paths around the roundabout. Work on the temporary facilities will start in late November 2019 and be completed before Christmas 2019. View the detailed maps of the temporary facilities.
Bus journey times are expected to be impacted due to the increased likelihood of congestion. At times during the construction phase, bus lanes will be reduced in length to accommodate temporary traffic management. When required during construction, the westbound bus stop on the B4057, Winterbourne Road will be temporarily relocated, approximately 85 metres to the east.
Are road closures required and what will the diversion routes be?
Road closures are only expected towards the end of the construction phase, during September and October 2020, to complete the final surfacing and road marking work. We will publicise the signed diversion routes nearer the time and residents in the immediate area will be kept informed. Details of any closures will be added to this webpage and on social media.
Emergency services will be advised in advance of any road closures. They will use this information to plan their routes.
Is this work being carried out at the same time as the Cribbs Patchway metrobus extension scheme?
Yes. The
Cribbs Patchway metrobus extension
work is also planned in the area for next year. This includes the closure of Gipsy Patch Lane from March 2020 for approximately eight months.
We have started the work on the Great Stoke roundabout ahead of the Gipsy Patch Lane closure, however there will be an overlap which will cause a significant impact on traffic in the area. We apologise for this, but feedback from residents has told us that a condensed period of heavy congestion is preferred to stretching roadworks out over a number of years.
What's being done to help residents and road users during the work?
We will be providing advice on alternative routes and, where possible, encourage sustainable modes of travel or a change to travel times. We will also be engaging with employers in the area to support staff with flexible working patterns, allowing more home working and minimising business travel as well as offering sustainable travel facilities, such as showers and cycle racks.
Information and regular updates will be posted on this webpage and our StreetCare Facebook page.
Will the impact of closures on other roads in the area be monitored?
Yes. We will monitor traffic in the area during the construction phase and, if some areas experience severe difficulties, we will consider implementing additional measures to help ease congestion.
Was there a consultation about this scheme?
Yes. A
public consultation
was open between 6 February and 29 March 2019 and included an online questionnaire and several public drop in sessions. A
report of responses received
during the consultation was published on 30 September 2019.