Bee a winner on our high street trail
Your chance to win a share of £10,000 and support local traders
This summer, 16 bright and beautiful bees decorated by local artists will be buzzing about on our local high streets and community spaces.
From Saturday 24 July to Saturday 18 September, you can 'collect' these bees by taking a photo of yourself with them and entering a weekly draw to win £150 vouchers per South Gloucestershire high street, to spend with our independent traders.
The trail is part of our campaign to support local high street traders who have so much to offer customers – whether it's food and drink with friends and family, shopping for essentials, leisure, learning or looking good.
How to enter
find your two bees on a South Gloucestershire high street – use the Bee Trail map to discover the location of the bees on the high street
take a selfie with your mobile device at the first bee – you can then scan the QR code or website link displayed on the information panel (see example below) to access our competition site and upload your photograph, name and details (you must be over 16 years old to submit a photograph)
repeat step 2, but at the second bee at the same high street location – you are now entered into the competition
enjoy the hive of activity in the high street and then repeat the process on a different high street for a chance to win again
If you are a winner, we will let you know by email within five days of entering the draw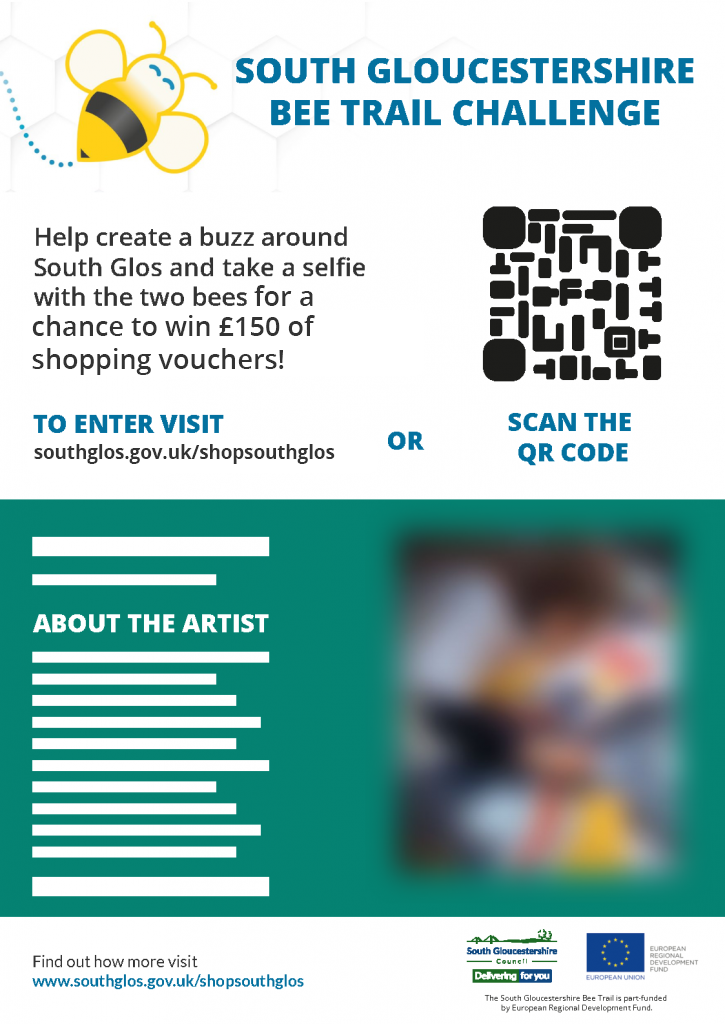 Have you already taken your selfies?
Return to the southglos.gov.uk/shopsouthglos page and select the high street where you took your pictures. Scroll down to 'How to enter' to find the link where you can submit your selfies.
Terms and conditions
• the prize draw will run from Saturday 24 July to Saturday 18 September
• participants can enter the draw more than once, but only once per high street
• participants in the draw must be aged 16 and over
• photos of both high street bees must be submitted to qualify for the draw
• the draw will be made weekly after 10pm each Friday from 30 July, with the last draw on Saturday 18th September
• entries submitted after 10pm on Friday will be rolled over into the following week's draw
• winners are chosen by random and will be notified by email within five days
• no prize alternatives can be offered
• the challenge is not open to employees of South Gloucestershire Council involved in its setting up or their households
Tell us about an issue or problem with a bee
If you spot something wrong at our bee installation locations, contact us at highstreets@southglos.gov.uk.